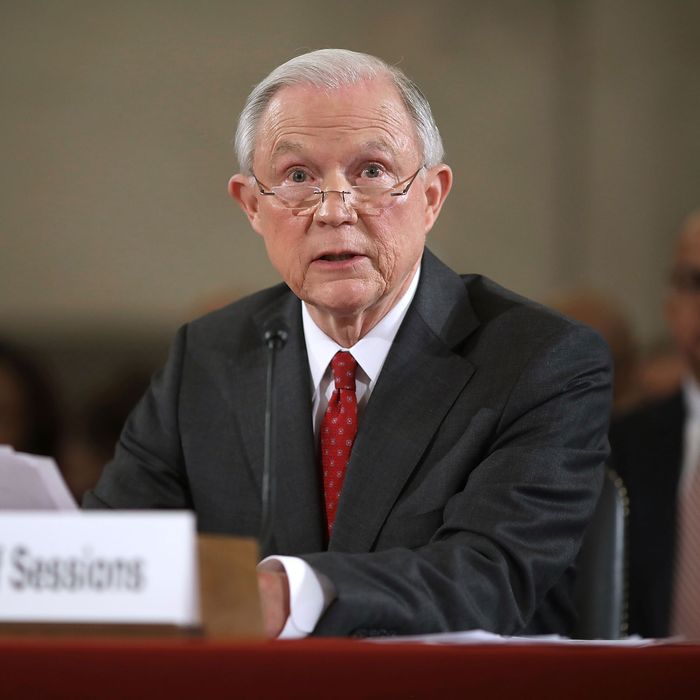 In hearings on his confirmation as attorney general, drug warrior Sessions says it's not his job to look the other way while dope smokers violate federal law, but he might.
Photo: Chip Somodevilla/Getty Images
A lot of the questions and answers during the first day of Jeff Sessions's Judiciary Committee confirmation hearing have involved efforts to characterize or recharacterize his past record, and to test whether he will operate independently from the erratic president-elect who appointed him. But one line of questioning with real news value did not come up until well into the afternoon: How will this zealous soldier in the War on Drugs deal with state laws legalizing marijuana?
We still don't really know the answer, because Sessions endorsed two principles that are in conflict. In answer to a question from Senator Pat Leahy about the Obama administration Justice Department's decision to look the other way with respect to federal-pot-law enforcement in the legalizing states as a resource decision, Sessions said that decision made sense, but:
"I won't commit to never enforcing federal law," Mr. Sessions says. He adds: "But absolutely, it's a problem of resources for the federal government."
A few minutes later, after Senator Mike Lee asked if a refusal to enforce laws against pot violate the constitutional principle of separation of powers, Sessions again agreed, and suggested that if Congress wanted to repeal the existing laws it should do so.
I suppose that means Sessions believes he should go right ahead and prosecute people in the "legalized pot" states for violating federal law, but isn't sure it is worth the trouble. That is not terribly illuminating.
Perhaps the initial questioning did not dwell on this issue because there is only one senator on the Judiciary Committee from a state that has legalized recreational marijuana use. That would be Diane Feinstein of California, and maybe she has plans to clear this up in later questioning of Sessions. For now, anyone hoping this hearing would clarify that it will be safe to abuse that pot drug in places where the state has decided to step aside would have to be disappointed. Nobody should want their personal freedom to depend on Jeff Sessions's idea of the best way to allocate prosecutorial resources.