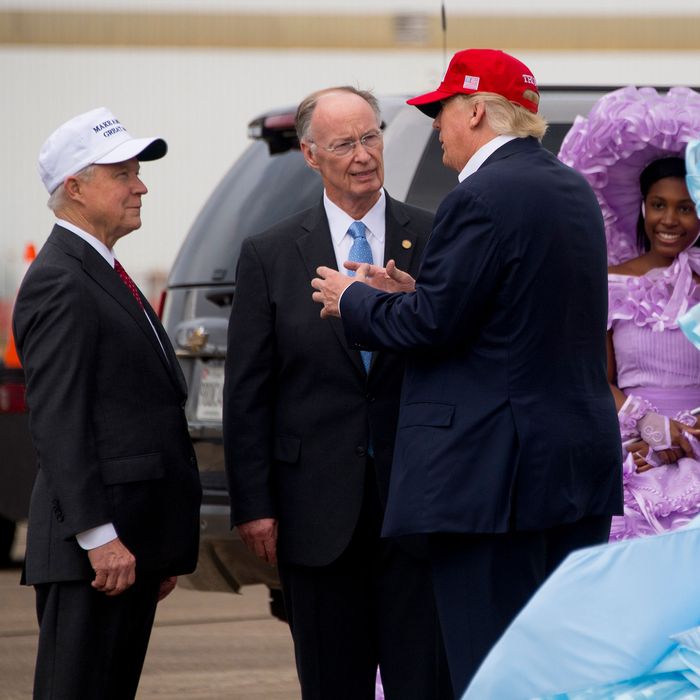 The guy on the right making the guy on the left attorney general is giving the guy in the center an asset in his fight to avoid being removed from office.
Photo: Jim Watson/AFP/Getty Images
If, as is broadly expected in Washington, Jeff Sessions is confirmed as attorney general by his Senate colleagues, embattled Alabama governor Robert Bentley will have an extraordinary plum to offer someone. He will appoint a temporary replacement for Sessions in the Senate and then schedule a special election — perhaps in 2017, perhaps not until the regular election year of 2018 — to complete Sessions's term, which runs through 2020.
Bentley, as you may recall, has been under fire for over a year as the subject of a lurid sex-and-corruption scandal involving a former staffer and all sorts of allegations of misuse of office. Earlier this year, it looked like his fellow Republicans in the state legislature were going to move forward with an impeachment initiative after Bentley refused to take multiple hints that he resign. But then in early November legislators decided to hold back on impeachment after being advised that another fellow Republican, Attorney General Luther Strange, was conducting a criminal investigation of the governor.
Then, Donald Trump won the presidential election, Jeff Sessions got the nod for attorney general, and Luther Strange let it be known that he would really like to become a U.S. senator. Separately, he seems to have told legislators he wasn't finding any compelling dirt on Bentley. In fact, absent any criminal proceedings, the state auditor has asked the appropriate legislators to resume impeachment proceedings against Bentley.
Nobody at this point is alleging any sort of quid pro quo in the works, and Bentley could well appoint someone else to the Sessions seat. Several U.S. House members from Alabama would like a promotion, and Bentley and Strange have had some run-ins unrelated to the governor's sex life.
But the fact remains that Bentley could by sending Strange to Washington appoint an attorney general to his liking, and perhaps close off one line of attack on his position for good. As Philip Wegmann of the Washington Examiner notes:
No decision has been made public and Bentley's kept busy interviewing about 20 candidates at the governor's mansion in Montgomery. But it's not difficult to imagine Bentley loosening justice's blindfold and trying to tip the scales in [Strange's] favor. Last week, he was talking about canceling the special election altogether. If that happens and Bentley picks Strange, the new senator wouldn't need to defend his seat until November of 2018.
The U.S. Senate could avoid this potential stain on the honor of the Great State of Alabama by denying Sessions confirmation. Barring that, we could soon see another chapter in the unending saga of Robert Bentley.