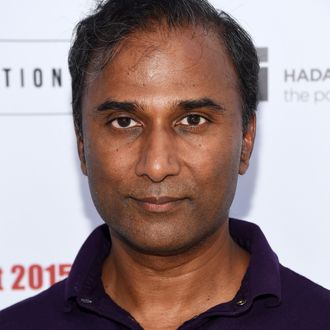 Photo: Amanda Edwards/Getty Images
Shiva Ayyadurai, the man who claims to have invented email — and who sued now-defunct gossip blog Gawker for saying he didn't — announced this morning that he's filed a new lawsuit yesterday against the website Techdirt. Ayyadurai is seeking $15 million in damages — and is represented by Charles Harder, the lawyer who represented him and Hulk Hogan in their suits against Gawker.
Ayyadurai's beef with Techdirt concerns their publication of what he describes as "fake news and 14 defamatory articles." Posts on the site include crystal-clear headlines such as "Guy Who Didn't Invent Email Sues Gawker For Pointing Out He Didn't Invent Email" and "Actual Creators Of Email Not At All Happy The Fake Creator Of Email Got Paid For His Bogus Claim," and "Here's The Truth: Shiva Ayyadurai Didn't Invent Email." As noted, he's seeking $15 million in damages.
Techdirt would seem to have a pretty good case here. By and large, the only person who really believes that Ayyadurai "invented email" is Ayyadurai himself — a belief that Ayyadurai (who was once married to Nanny star Fran Drescher) has not been shy about sharing with the world. Technology historians near-unanimously credit Ray Tomlinson with developing the innovation while working for defense contractor Raytheon; when the Washington Post wrote in a headline that Ayyadurai had invented email, its ombudsman apologized and said he should not have been described as such. (Ayyadurai does appear to have invented an electronic-mesaging system that he named "EMAIL," but that code was copyrighted in 1982, more than a decade after the first email was sent over the internet precursor ARPANET.)
Nonetheless, Ayyadurai sued Gawker Media and reporter Sam Biddle in 2016 (while the company was embroiled in a lawsuit involving a post about a Hulk Hogan sex tape) over a 2012 Gizmodo story — written by Biddle and headlined "Corruption, Lies, and Death Threats: The Crazy Story of the Man Who Pretended to Invent Email" — which laid out the timeline for the invention of electronic mail. When Gawker declared bankruptcy after losing the lawsuit against Hogan, the company agreed to settle for $750,000 with Ayyadurai, who was represented by Hogan's lawyer, Charles Harder. The story was then removed from Gizmodo's site.
Harder's work on Hogan's case was revealed to have been paid for by Facebook investor and Trump adviser Peter Thiel, but Ayyadurai has denied being funded by Thiel, despite speculation to the contrary. (Harder also sent an email to New York Magazine on behalf of disgraced Fox News chief Roger Ailes.) It's unclear whether or not Thiel is involved in the suit against Techdirt, which has been fiercely critical of the billionaire's quest to destroy Gawker. As of press time, Techdirt had not responded to a request for comment.