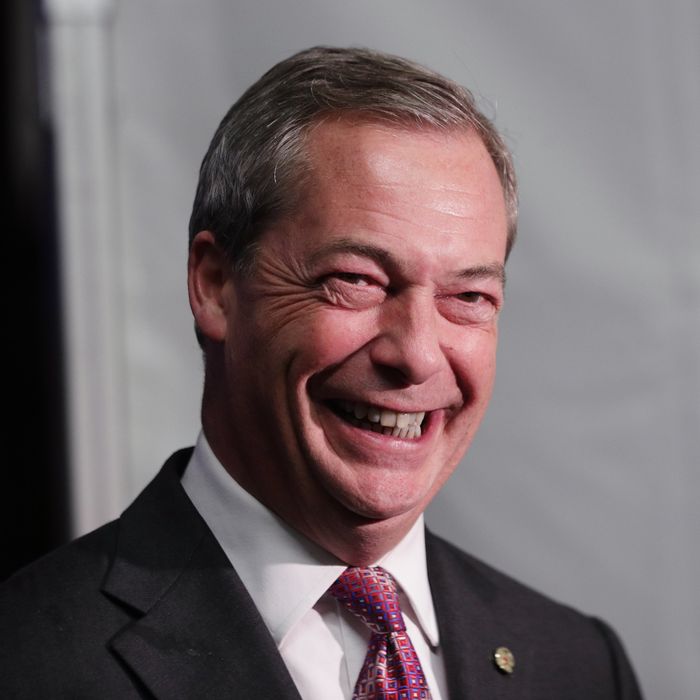 Nigel Farage.
Photo: Yui Mok/PA Wire/PA Images
Nigel Farage was smoking a cigarette on the roof of the Hay Adams Hotel as he took in the panoramic view of the White House that would be occupied by Donald Trump in a little over 12 hours. "This is absolutely a political revolution for America. It's very exciting," he said. "What we did with Brexit is amazing. But as Trump said himself, his election is Brexit plus-plus-plus."
Farage, the former leader of the U.K. Independence Party, was in Washington on the eve of Trump's inauguration for a party to celebrate the publication of The Daily Mail writer Arron Banks's book, The Bad Boys of Brexit, which chronicled Farage's role leading last summer's Brexit vote — a political shock that augured Trump's own win. "I'm very English, Trump's very American. But our missions have been remarkably similar," Farage told me. "Plus, we're the two most demonized people in the West!"
It might seem odd that heartland Republicans would fete an English member of the European Parliament, but since the Brexit vote, Farage has become an unlikely celebrity in Trump's movement. He's a close ally of Trump adviser Steve Bannon and attended the Republican National Convention in July, where he ran into members of Mississippi Governor Phil Bryant's staff at a hotel bar at 4 a.m. After bonding over a round of drinks, Bryant's staffers invited Farage to deliver a speech at a Trump rally in Jackson the following month. He's been back to the States eight times since then.
"I saw remarkable parallels with the United Kingdom. When I went into the crowd afterward, they were the same people who voted for Brexit," Farage said. "They were ordinary people, some of them hadn't voted for years, and they thought now's a chance to actually change things."
Shortly before we spoke, Farage waded through the crowd that included conservative talk-radio host Laura Ingraham and Iowa Congressman Steve King. "I'm going to get a reload!" he said, swishing an almost-empty gin-and-tonic as he headed toward the bar. With a fresh drink in hand, he made his way to the stage to deliver a rousing speech honoring Trump.
"There's still a level of disbelief that Trump has won. It's time to end that disbelief and say, 'we did it!'" he said, thrusting his arms skyward. The crowd roared. "When I look back, perhaps the greatest joy was watching as state after state in the Midwest went red, just to see the faces of those CNN presenters!" The crowd roared again.
Afterward, well-wishers thronged Farage to congratulate him and snap selfies. "It's gonna be our house now," Governor Bryant gushed as he nodded at the White House. "We're back." Farage beamed.