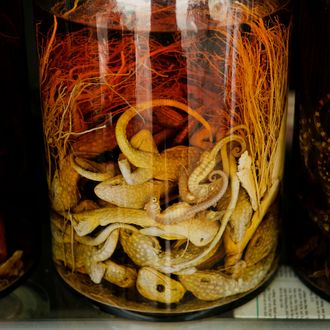 Not the lizards in question.
Photo: jack malipan photography/Getty Images/iStockphoto
In an early contender for best headline of the year, today the Daily Mail announced the arrest of one U.K. taxidermist named Daniel Stocks: "Taxidermist who made props for The Smurfs and QI is jailed for illegally selling pickled lizards and endangered monkey heads on eBay." Embalmed animal corpses! Internet crime! A cartoon about lots of tiny blue men and one similarly tiny blue woman! This story has everything.
Stocks was busted for selling controlled species including "horn bills, leopard cats, langur monkeys, and green monkeys." He sold said creatures on eBay, under the name Killer Curios UK. "Police raided his home and an industrial unit he rented and found a stuffed African white-backed vulture, macaque heads and skulls, monkey tails and monkey paws framed and mounted above the phrase 'Make A Wish,'" the Daily Mail also reports. The illegal eBay side hustle was in addition to his above-board shrunken-head business, shrunken-head.com. The website appears to still be open for orders and also offers an abridged history of shrunken heads which I am certainly richer for having read.
Stocks plead guilty to four charges and was sentenced to six months in jail. No word on what this means for any potential sequels to The Smurfs.