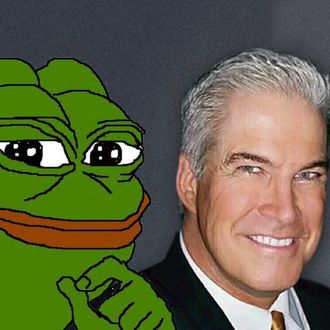 Bill Mitchell, the conservative radio host whose frantic Twitter presence and unbounded, pre-election optimism about the Trump campaign continues to pay dividends, may have finally met his match. After amassing a hoard of #TrumpTrain followers thanks to his wild, confusing, and ultimately completely correct predictions that Trump would win the presidency, Mitchell has continued to unapologetically tell it like it is. The problem for Mitchell is that "telling it like it is" means denouncing the alt-right — the faction of Trump followers that spread white nationalist views online through quote-unquote "meme magic" — and pledging to stand against racism and sexism. (He did, you know, vote for Trump, so good luck squaring that circle.)
But Mitchell might have finally crossed a line when he took on one of the alt-right's primary modes of expression: Pepe, the meme frog co-opted by racists and xenophobes.
That stance earned Mitchell the ire of some of his online followers, who responded by — what else — sending him Pepes.
Mitchell quickly backtracked on his statements, chalking it up to age. For as much as he is in touch with "real Americans," he was out of touch with real memers. He quickly apologized.