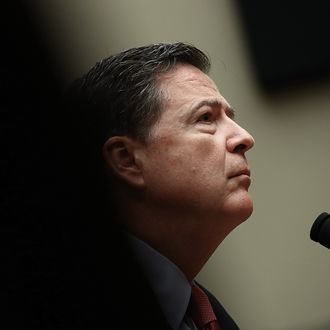 FBI director James Comey.
Photo: Win McNamee/Getty Images
While investigating the hacking of the Democratic National Committee's digital communications, the FBI never personally examined the affected computer servers, BuzzFeed reports. The hacks, which were clearly intended to benefit Donald Trump's campaign, have since been attributed to Russia by the FBI and the rest of the intelligence community, prompting President Obama to issue sanctions against the country. (Trump himself has insisted that what he calls the "age of computer" has made it impossible to determine who was responsible for the break-in.)
According to a statement from DNC deputy communications director Eric Walker: "The DNC had several meetings with representatives of the FBI's Cyber Division and its Washington (DC) Field Office, the Department of Justice's National Security Division, and U.S. Attorney's Offices, and it responded to a variety of requests for cooperation, but the FBI never requested access to the DNC's computer servers [italics his]."
It's not clear why the FBI didn't look at the servers. Shortly after BuzzFeed published its story, NBC News' Ken Dilanian tweeted this possible explanation: "Source close to the investigation says FBI didn't need the DNC servers because it already had the forensic data from upstream collection."
Meanwhile, an unnamed intelligence official told BuzzFeed, "No US government entity has run an independent forensic analysis on the system." That work has apparently been outsourced to the cybersecurity firm Crowdstrike, which first blamed the hacks on Russia — or, at least, Russians — back in June. "CrowdStrike is pretty good. There's no reason to believe that anything that they have concluded is not accurate," said the official.

Perhaps this will all be cleared up for good at Friday's long-awaited intelligence briefing on the matter.