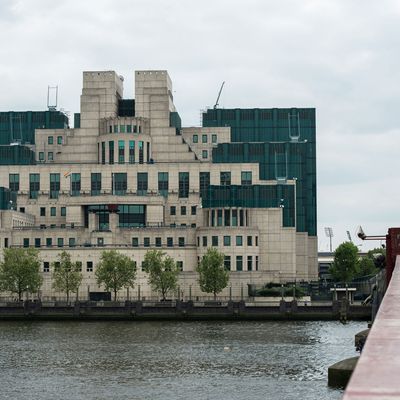 MI6 headquarters, where Trump dossier author Christopher Steele served as the agency's top Russia expert.
Photo: Chris Ratcliffe/Getty Images
A day after BuzzFeed offended many members of the media by publishing a secret dossier about Donald Trump, including claims of close ties with Russia and unsanitary escapades with prostitutes, the New York Times is providing the backstory on how that dossier came to be.
In September of 2015, the Times says, a Republican donor with deep pockets and a deep distaste for Trump hired a D.C. investigative firm to compile a report on Trump's scandals. The firm, Fusion GPS, is led by former Wall Street Journal reporter Glenn Simpson, who has "written extensively on Russian corporate crime and criminal organizations," according to his bio on the website for the nonprofit International Assessment and Strategy Center.
As Trump went from primary hopeful to GOP nominee, Fusion GPS continued working on the report — digging through lawsuits, compiling news reports, delving into his business dealings — but with new financiers. Hillary Clinton supporters began footing the bill in hopes of derailing Trump.
Then, the hacking of the DNC in June, believed to be conducted by Russian agents, led to a shake-up. Simpson hired Christopher Steele, a former MI6 agent with experience working undercover in Moscow. Steele reached out to some of his old contacts and farmed out other research to native Russian speakers who made phone calls on his behalf. The information they found concerned attempts to compromise Trump and coordination over hacking of the DNC. Even after the election, Steele and Simpson continued their investigating without pay because they were convinced they were doing "very important work," the Times says.
Now that his identity has been revealed, Steele has gone into hiding, according to The Telegraph. He fled his home outside of London on Wednesday morning, the paper says. He left his cat with a neighbor and went underground, "terrified for his and his family's safety," a source told The Telegraph.
The BBC confirms that story, with one minor change. Steele went into hiding after leaving not one, but three cats with his neighbor, BBC News correspondent Paul Wood reports.