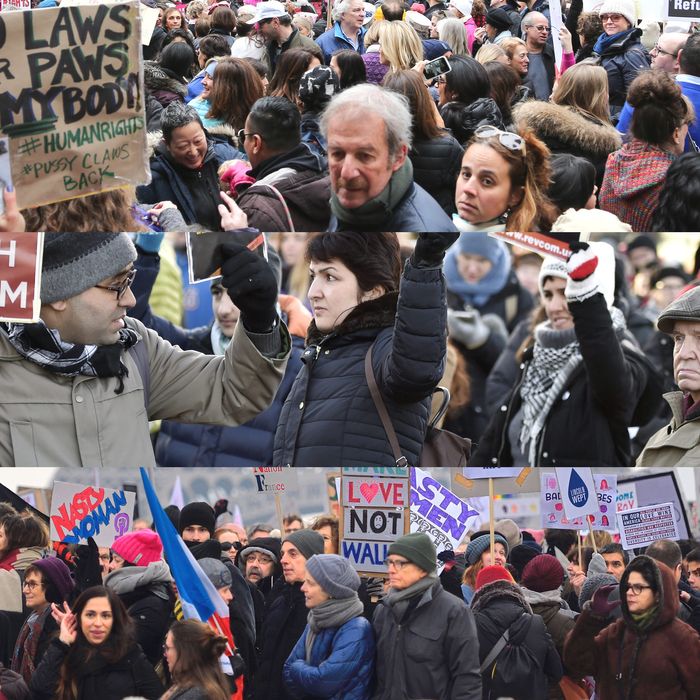 From top: New York, Helsinki, Paris.
Photo: Rob Kim/Getty Images, Jussi Nukari/AFP/Getty Images, Eric Feferberg/AFP/Getty Images
Within 24 hours of his swearing-in, President Donald Trump accomplished something magnificent: He turned much of midtown Manhattan into an immense pedestrian plaza. Shortly after noon on Day 2 of the Trump Era, I found myself standing at the intersection of Third Avenue and East 48th Street, waiting for the signal to start shuffling along a prescribed route with the rest of the Women's March. Eventually, we gave in and started moving westward down an unauthorized block, flowing around suddenly stranded cars. A cabbie abandoned his taxi midstream, leaving the OFF DUTY light on, just in case anyone decided to climb in. A little boy scrambled onto the roof of the family minivan and started leading protest chants. A woman pulled her SUV out of an underground garage, only to discover that she wouldn't be going anywhere for hours. At Lexington Avenue, drivers honked madly, and the crowd echoed the horns, turning a mechanical snarl of protest into a joyous song.
Across the world, marchers commandeered traffic arteries, bridges, highways, squares, and streets, offering a glimpse of what cities could be if they were permanently retrofitted for pedestrians. The Women's March was also a de-facto Metropolitan March, a global act of resistance to the new administration's profoundly anti-urban philosophy. Cities — not just on America's coasts, but in the Rust Belt, the South, and the heartland, and even in Finland, France, and Nigeria — came out in force because they are havens for the openness and hybridization that Trump detests. One of this political moment's innumerable ironies is that a dyed-in-the-wool New York kid should grow up to be so unsympathetic to urban culture.
The metropolitan energy expressed on this one day didn't die when the marchers went home. It has profound implications, because a global network of cities can tackle shared problems more nimbly than sluggish national governments can. While Trump erects walls and tariffs and invokes the fascistic slogan "America First," city leaders know they need each other. The mayors of Paris (Anne Hidalgo), L.A. (Eric Garcetti), Bogotá (Enrique Peñalosa), and Seoul (Park Won-soon) belong to an international cohort of city wonks who swap war stories and wisdom. While they all have to dance around different political obstacles, they often sound interchangeable when they talk about climate change, inequality, transit, and civil rights.
If mayors can link arms across oceans, it's because city dwellers everywhere are more similar to each other than to the small-town relatives they've left behind. The scenes from Cape Town, Rome, and Erbil all looked inspiringly similar: the same knit pussy hats, the same smart signs and wide smiles, the same projected confidence in a future of equal rights. Sometimes it feels like two adjacent counties in the United States belong on different continents; on Saturday, dozens of cities around the world seemed to constitute a single nation.