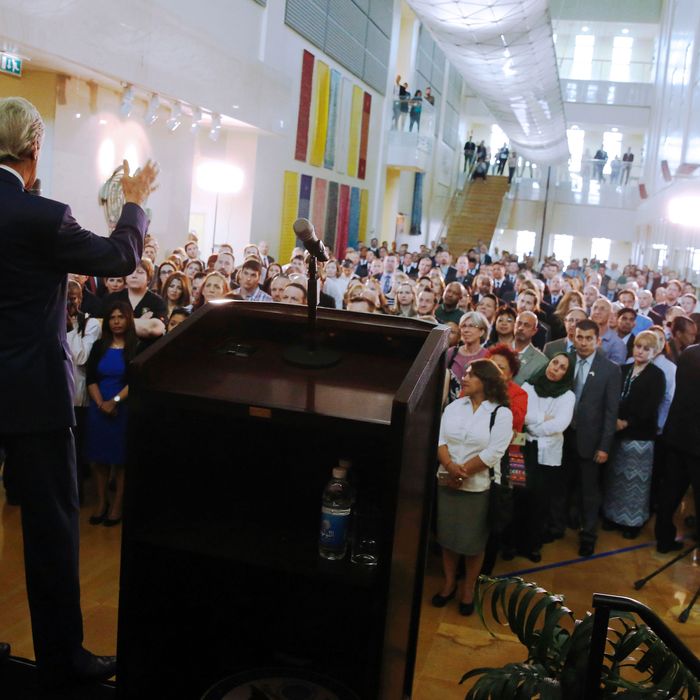 Then-Secretary of State John Kerry addressed U.S. Embassy staff members on April 8, 2016, at the embassy in the Iraqi capital, Baghdad.
Photo: Jonathan Ernst/AFP/Getty Images
Hundreds of State Department employees are unhappy about the executive order Donald Trump signed on Friday, which, temporarily at least, severely curtails the ability of residents of seven majority-Muslim countries to enter the United States, prevents the admission of new refugees, and which snared even green-card holders during a disorganized and uncoordinated rollout marked by widespread chaos and raucous protests at U.S. airports over the weekend. The staffers made that clear today, sending a so-called "dissent cable" to their bosses at State.
"A policy which closes our doors to over 200 million legitimate travelers in the hopes of preventing a small number of travelers who intend to harm Americans from using the visa system to enter the United States will not achieve its aim of making our country safer," the diplomats wrote in the cable, rumors of which had been circulating since yesterday, according to the AP. While State Department employees are supposed to be able to sign their names to this sort of document without fear of retribution, this wasn't a riskless act for the approximately 800 who did so — as the AP notes, "the cable was received just a day after White House spokesman Sean Spicer suggested those disagreeing with Trump's new policy should resign."
Buried at the bottom of the AP story is a sign that even before the EO was signed, some employees had begun to resist it:
As word of the executive order began to circulate last week, diplomats at some embassies began to prioritize visa applications from citizens of countries they suspected might be affected, according to officials.

On Friday, before the order was signed, workers at one embassy dumped bins of hundreds of approved passports on the floor to pull those from the affected countries and affix visas in them, officials said. That effort stopped when the order was signed, they said.

Whether and to what extent this will make much of an immediate difference for individual visa-seekers is a tricky question to answer, given that different sorts of visas last for different lengths of time, and given the possibly temporarily nature of Trump's EO. But whatever the details, it's heartening to think about State Department staffers working frantically to help foreign residents who had already been vetted get into the U.S., at a time when the Trump administration seems intent, for highly questionable reasons, on keeping them out.