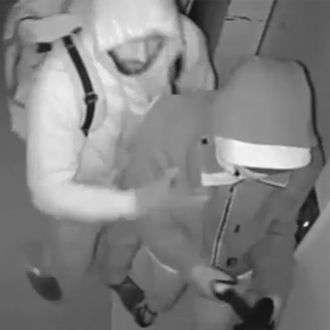 As thousands of NYPD officers patrolled Times Square on New Year's Eve, just a few blocks away, a trio of hoodie-wearing jewel thieves pulled off a $6 million heist as the ball dropped.
The burglars reportedly snuck into the freight entrance of the building, on 36th Street near Sixth Avenue, around 10 p.m. They waited in the stairwell outside KGK Holdings, a jewelry wholesaler, until about midnight, when the thieves used a crowbar and sledgehammer to smash into a room with four safes. The men got into two of them, making away with an 18-karat gold bracelet, rings, necklaces, and diamonds.
Police sources suspect this may have been an inside job. Per the New York Post, law enforcement is investigating whether the robbers may have known the combinations of the looted safes, or if the lockboxes may have been left open.
The NYPD released surveillance footage of the men banging away with a hammer. Two of the men wore masks, but one did not, and he made the mistake of looking straight into the camera before his accomplice smashed the screen.
The NYPD is searching for the thieves, who stuffed their backpacks with the gems and slipped out of the building, and who presumably had an easier getaway than this guy.