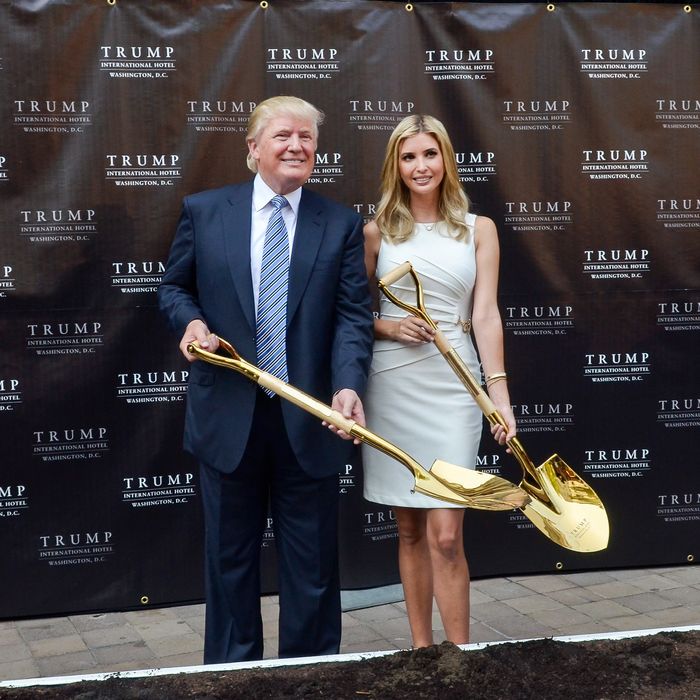 Photo: Kris Connor/Getty Images
These are chaotic times for America. Donald Trump's election has brought with it a wave of uncertainty, and naturally Americans are expressing all sorts of worries about not only the future of the U.S., but the world itself. Today's news does bring one silver lining, though: All indications suggest that despite all this upheaval, Donald Trump's business empire will be just fine.
First comes the news, courtesy of Bloomberg, that "President Donald Trump's hotel company aims to eventually triple the number of Trump luxury hotels throughout the United States and will begin opening lower-priced hotels this year as well." "There are 26 major metropolitan areas in the U.S., and we're in five," Trump Hotels CEO Eric Danziger told Bloomberg. "I don't see any reason that we couldn't be in all of them eventually." If all goes as planned, future generations will have convenient access to Trump-owned properties wherever they are in the country.
Second, CNBC just reported that the Trump-owned Mar-a-Lago country club will be doubling its initiation fee from $100,000 per year to $200,000 a year. This is a reversal of the move the club made in 2012, when it cut its fee from $200,000 to $100,000. Now, for whatever reason, the club — which Trump will occasionally use as his "Winter White House," offering members "a chance to mingle with the 45th president," as CNBC put it — feels confident enough in its cachet to have bumped the initiation fee back upward. New members will pay both the new initiation rate and $14,000 a year in dues.
Again: Whatever else you're worried about, rest easy. Financially speaking, things look promising for Donald J. Trump in 2017, at least when it comes to his domestic concerns. Given that Trump has, of course, completely cut himself off from running his businesses in an ethically bulletproof manner, this must come as a relief to the president himself.