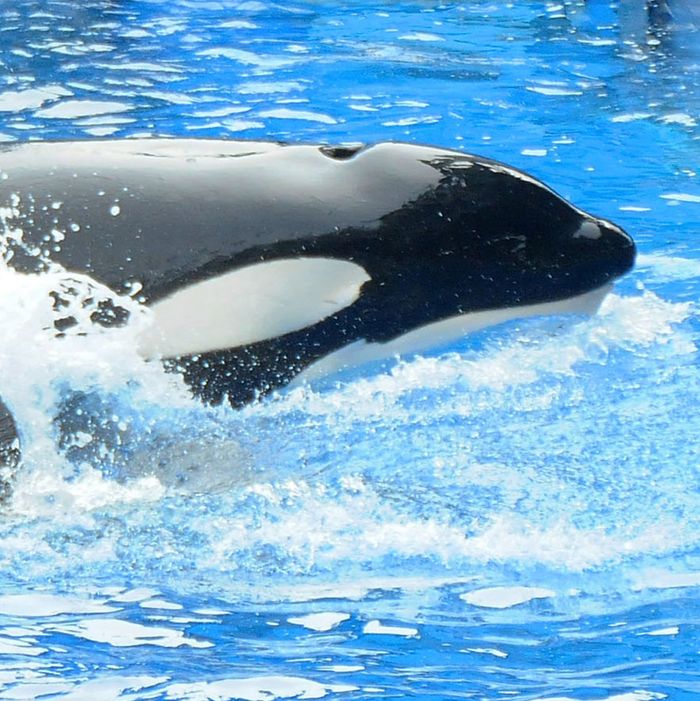 Killer whale Tilikum appears during his performance in a show called "Believe" at SeaWorld on March 30, 2011, in Orlando, Florida.
Photo: Gerardo Mora/Getty Images
Tilikum, the SeaWorld orca that killed three people — including his trainer, Dawn Brancheau in 2010 — and also inspired a national crusade against the captivity of his species, is no more.
"It is because of Brancheau's death that Tilikum is also a movie star, the killer whale at the center of Blackfish, the hit 2013 documentary about SeaWorld and the problems of keeping orcas in captivity," Benjamin Wallace wrote in New York's May 2016 feature on the embattled SeaWorld.
[Blackfish] triggered a profound crisis for SeaWorld, which had built its brand on the backs of killer whales. Tilikum embodied the paradox of Shamu, the Ur-orca who came to represent all SeaWorld's killer whales: the cuddly predator, the plushy-ready wild beast trained and monetized but never wholly tamed.
That backlash helped bring about the end of SeaWorld's controversial practice of breeding orcas.
SeaWorld had announced in March that Tilikum was ill, and most recently had a serious bacterial lung infection, according to the park, though the final cause of death will be determined by a necropsy. His death, as Wallace predicted, will likely mark the "beginning of the end of a 50-year-experiment in human-whale interaction."