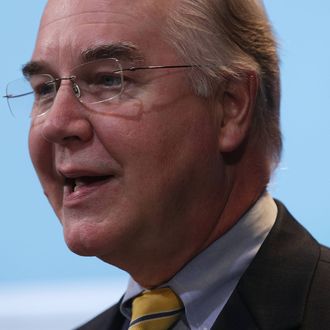 The Price of doing business.
Photo: Alex Wong/Getty Images
Georgia Congressman Tom Price is proving that when it comes to flouting conflicts of interest, he and Donald Trump have a lot in common. Trump's nominee for health secretary reportedly invested thousands of dollars in a medical-device company last year and then, less than a week later, introduced legislation to benefit it. Later, the company's PAC donated to Price, CNN reports.
The company is Zimmer Biomet, a leading producer of hip- and knee-replacements. In March of 2016, Price bought between $1,001 to $15,000 worth of stock in the Indiana-based company, according to CNN. Then, before the month was over, he introduced the HIP Act, which would have delayed changes sure to affect the bottom line of Zimmer Biomet.
"It clearly has the appearance of using your influence as a congressman to your financial benefit," Larry Noble of Campaign Legal Center told CNN. "If he believed in the bill, he should not have purchased the stock."
Appearances only got worse as 2016 went on and Zimmer Biomet's PAC cut Price a check for $1,000.
The Trump transition team defended Price on Monday evening. Spokesman Phillip Blando told the New York Times that a broker bought the stock and Price "had no knowledge or input." Blando also issued a statement saying "Any effort to connect the introduction of bipartisan legislation by Dr Price to any campaign contribution is demonstrably false."
Nevertheless, Senate Minority Leader Chuck Schumer called for an investigation by the Office of Congressional Ethics into whether Price might have violated a law that bars members of Congress from engaging in insider trading.
This post has been updated to include responses from the Trump transition and Senator Schumer.