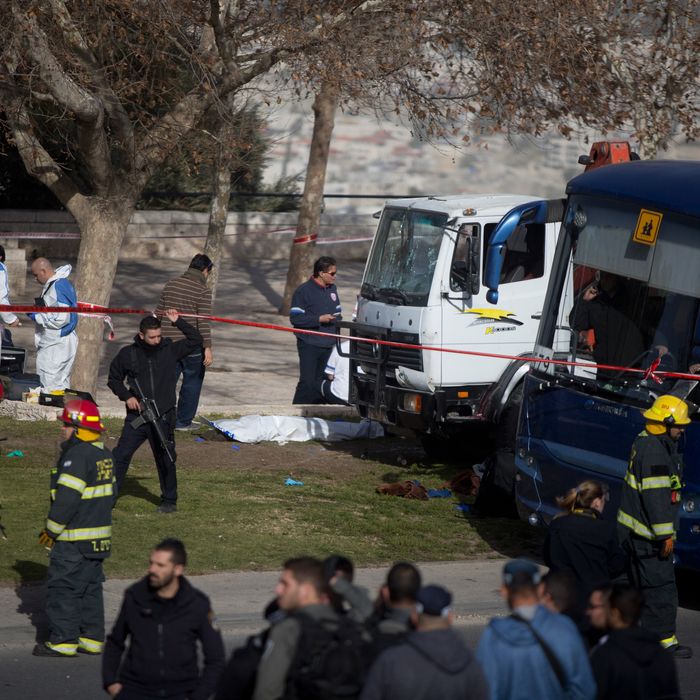 The scene of the attack, near the Armon Hanatziv Promenade.
Photo: Lior Mizrahi/Getty Images
Four Israeli officer cadets were killed and as many as 16 others injured after they were attacked by a Palestinian man driving a truck in Jerusalem on Sunday. Haaretz reports that the driver was shot and killed during the attack, which happened at a scenic overlook where a busload of Israeli soldiers on an educational tour had stopped to take in the view. The attacker plowed into the soldiers, then stopped, and reversed back through the group again, which is when he was shot and killed.
Israeli police are calling the incident a terrorist attack, and while Israel is no stranger to vehicular-ramming attacks, national police chief Roni Alsheich said it was possible the assailant was motivated by the truck attack that killed 12 people at a Berlin Christmas market last month. That attack was the deadliest truck attack since 86 people were killed when a terrorist drove a 19-ton truck into a large crowd celebrating France's Bastille Day in Nice last July. ISIS subsequently claimed responsibility for both of those attacks.
Sunday's assailant in Israel was reportedly a resident of Israeli-occupied East Jerusalem, and Israeli prime minister Benjamin Netanyahu told the media later Sunday that "all signs point to the attacker being a supporter of the Islamic State." Hamas did not claim responsibility for the attack but a spokesperson nonetheless celebrated it as "heroic."
The Guardian notes that at least 37 Israelis, two Americans, and 231 Palestinians have been killed in violence in Israel and the occupied Palestinian territories over the past 15 months. Israel claims that 157 of those Palestinians were killed while conducting attacks on Israeli security forces.