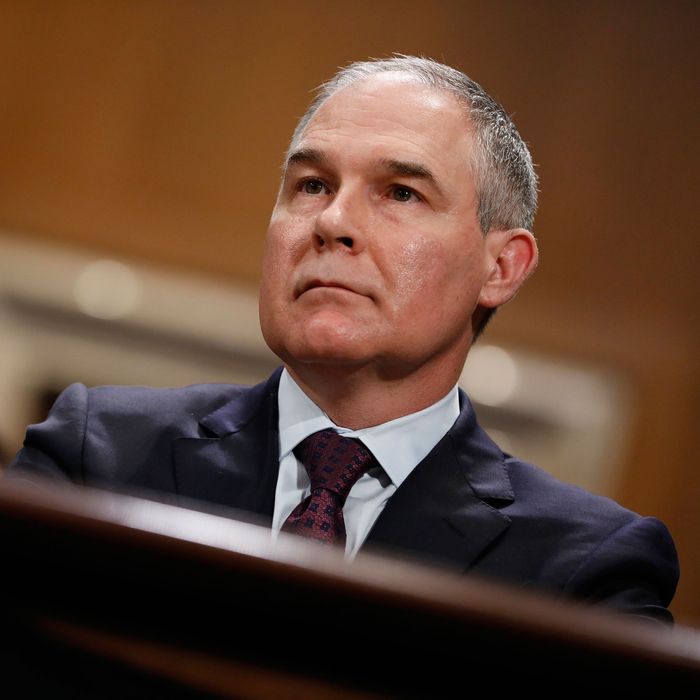 Scott Pruitt, Trump's pick to lead the EPA.
Photo: Aaron P. Bernstein/Getty Images
The Trump administration has just given itself veto power over all scientific studies produced by the Environmental Protection Agency. In an unprecedented move, the White House has mandated that any studies or data produced by EPA scientists undergo review by political appointees before being released to the public, the Associated Press reports.
"We're taking a look at everything on a case-by-case basis, including the web page and whether climate stuff will be taken down," Doug Ericksen, communications director for Trump's EPA transition team, told the AP.
Asked whether "everything" included routine data collection on air and water pollution, Ericksen replied, "Everything is subject to review."
If the Trump administration sticks to that policy, it would be dramatic break with historical norms — and, possibly, existing law.
Even under the George W. Bush administration, high-level political appointees weren't given discretion over what studies the agency would release to the public. And the Obama administration enacted a list of rules protecting the agency's scientific integrity, which mandates that all studies should be communicated to the public "uncompromised by political or other interference."
Considering that the next EPA director is likely to be an avowed opponent of climate-change science and clean-water regulation, it's hard to believe that the proposed "reviews" will be free of interference.