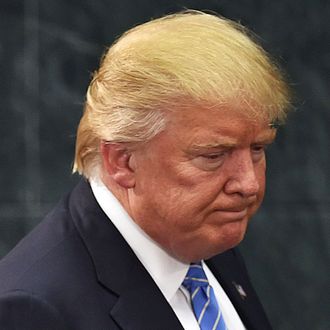 Donald Trump.
Photo: Yuri Cortez/AFP/Getty Images
After a canceled face-to-face White House meeting and some sparring on Twitter over the border wall, President Donald Trump and Mexican president Enrique Peña Nieto talked over the phone for about an hour on Friday morning. Officials from both countries confirmed the chat, and issued a nearly identical "joint statement," except the White House version left out one key detail about the conversation that appeared in the official statement from the Mexican president's office. Nieto's administration said that the two leaders agreed to stop sounding off about the wall, and who (or who isn't) paying for it in public. The Trump administration did not say this.
Specifically, Mexican officials said, with respect to the border wall, that the two presidents also "agreed for now not to speak publicly about the controversial issue."
The White House statement is the same when translated except for that part. (U.S. here, and Mexico here.) El Universal reports that the White House has not provided any information about this alleged omission on a statement that "apparently should be the identical."
What both the Mexican and U.S. administration officials did both say about the wall was that "both presidents recognize their clear and very public differences on this sensitive issue, and they agree to resolve these differences as part of a comprehensive discussion on all aspects of the bilateral relationships."
Mexican and U.S. officials described the call as "constructive and productive," and Trump sort of echoed that sentiment when the question came up at his press conference with British prime minister Theresa May. "We had a very good call," Trump said. "I have been very strong on Mexico. I have great respect for Mexico. I love the Mexican people. I work with the Mexican people all the time." Then, he added: "But as you know, Mexico with the United States, has outnegotiated us and beat us to a pulp through our past leaders. They've made us look foolish. We have a trade deficit of $60 billion dollars with Mexico; on top of that the border is soft and weak, and drugs are pouring in, and I'm not going to let that happen." So if a moratorium did exist, it wouldn't have lasted long, though Trump technically did not use the word wall.
Acording to El Universal, Nieto and Trump did discuss some of the touchy issues between the two countries, including trade, and the need for the two countries to work together to stop drug- and arms-trafficking across the border. They also, reportedly, talked about the importance of the friendship between these neighbors.
It sounds as if the call, which took place around 9:30 am, struck a markedly different tone than the one Donald Trump tried out when he began his morning tweeting ritual:
Trump threw in the latest comment after tensions between the countries, summed up by a few 140-character barbs, hit a crisis point Thursday, when Nieto bailed on a White House meeting with Donald Trump scheduled for next week. He did so after the U.S. president signed an executive order calling for the "immediate" construction of a border wall, said again Mexico would pay for this wall, and then insulted Mexico on Twitter after its leader repeated the country wasn't going to pay for a wall it didn't want in the first place.
After Nieto canceled, Trump spoke to GOP lawmakers and made it seem as if scrapping the meeting had been his idea, saying it would have been "fruitless." Then, in a conversation with reporters, White House press secretary Sean Spicer suggested a 20 percent import tax could be used to finance the wall. The White House clarified that it was a policy option in line with a popular GOP tax proposal, called a border-adjustment tax. The Mexican media, seizing on the tariff-that-wasn't along with the U.S. press, was still quick to point out that American consumers, not Mexico, would mostly end up paying for this wall if such a policy went through.
As the New York Times points out, Nieto has had to walk a difficult line in his dealings with Trump, saying Mexico would not foot the bill for the wall, but signaling a willingness to work with its northern neighbor — which was driven in large part by necessity. Yet Trump's barbs have galvanized Mexico — and Nieto, who is a really unpopular president — is seeing the country unite around the perceived bullying from the north. The Mexicans press — often describing it as "el huracán Trump" (the hurricane) — have characterized these escalating tensions, fueled by Trump's nationalistic and offensive rhetoric, as a new era of hostility. Former Mexican president Vicente Fox, who has been very blunt in his criticism of Trump, said the president had "brought back a very strong Mexican spirit."
This post has been updated throughout.