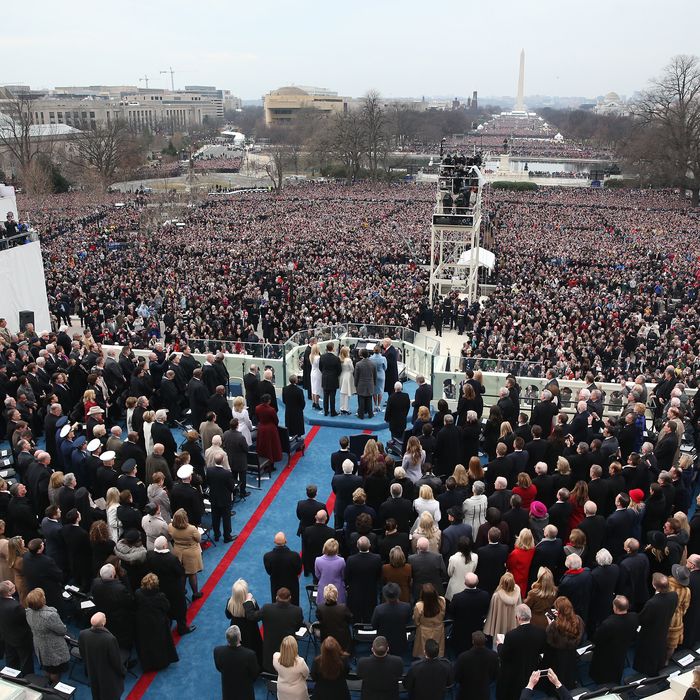 The only correct way to view the inaugural crowd. All other angles are "fake news."
Photo: Daniel Acker/Bloomberg via Getty Images
In yet another sign that we are all just living in Leslie Knope's nightmare, the Washington Post reports that on his first morning in office, President Trump personally contacted acting National Park Service director Michael T. Reynolds and ordered him to produce more photos from the inauguration, believing they would prove his false claims about the size of the crowd.
Reynolds was reportedly directed to call the White House on Saturday morning. In addition to requesting photos to settle his feud with the media, the president expressed his anger over the National Park Service Twitter account retweeting a photo showing that the inauguration turnout was about a third of what it was eight years ago. The retweets were later removed, and NPS spokesman Thomas Crosson apologized for "mistaken RTs from our account."
After the call, Reynolds forwarded more aerial photos of the inauguration crowd to the White House, but they did not support Trump's claim that more than a million people showed up to see him sworn in.
In response to the story, Crosson said, "The National Park Service does not comment on internal conversations among administration officials."
White House deputy press secretary Sarah Huckabee Sanders tried to spin the phone call as a sign that, as a manager, Trump is "so accessible, and constantly in touch.
"He's not somebody who sits around and waits. He takes action and gets things done," she added. "That's one of the reasons that he is president today, and Hillary Clinton isn't."
Clinton's so lazy and out of touch that she probably would have spent her first day gabbing with advisers and policy experts rather than trying to prove her personal theory on how many people watched her be sworn in.