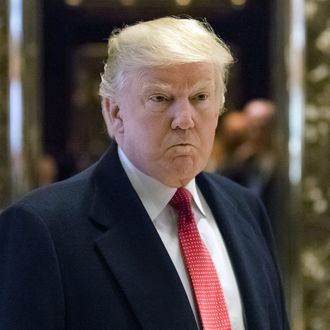 Photo: Albin Lohr-Jones/Bloomberg via Getty Images
House Republicans voted Monday night behind closed doors to gut the independent Office of Congressional Ethics, which investigates potential misconduct among lawmakers. It didn't take long for president-elect and alleged swamp-drainer Donald Trump to find his phone and tweet about it:
Trump didn't exactly contradict the merits of the GOP's plan — he suggests that the body itself, created in 2008 after Congressional corruption scandals hinted that lawmakers might not be the best at investigating themselves, is "unfair." But he does appear to take issue that this action is Number One on the list when there's plenty of legislation to gut. Not all Republicans support the plan — Speaker Paul Ryan and Majority Leader Kevin McCarthy both spoke against it — and the new rules are still up for a full vote on the House floor.