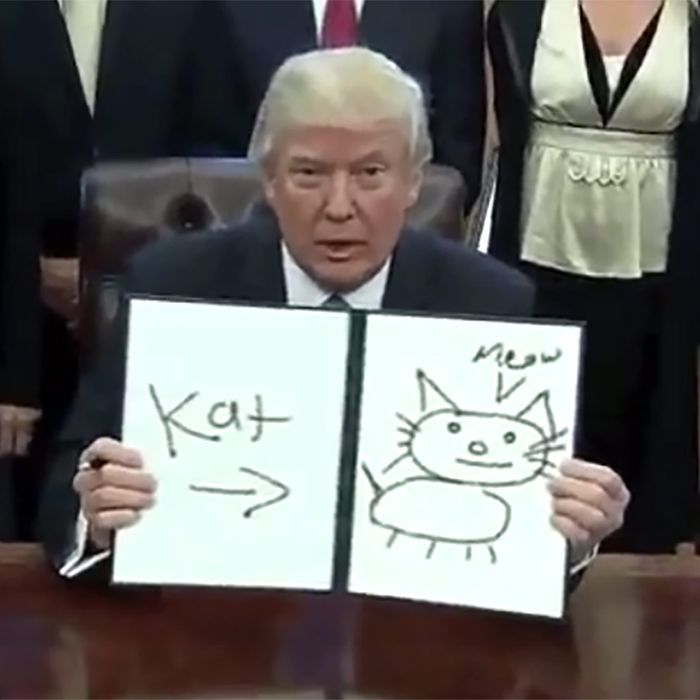 In his first week in office, Donald Trump wasted no time signing executive actions. On Saturday alone, President Trump signed three from his desk in the Oval Office: A five-year lobbying ban for administration officials, a request for a plan to take down ISIS, and a reorganization of the National Security Council. The moment was, of course, photographed and filmed. A clip which the internet artist behind @TrumpDraws — a newly created Twitter account devoted to, well, Trump drawing — used to turn President Trump into a kindergartner in art class.
The creator of @TrumpDraws, a visual-effects artist in Los Angeles who spoke with Select All under conditions of anonymity, said the gag behind the new account "wrote itself." "After seeing the countless number of videos of Trump signing these executive orders, I thought 'why not?,'" @TrumpDraws said. "It's hard not to take advantage of someone holding up paper, especially our leader of the free world." In case you're not familiar, the genre of Famous Person Holding Up Easily Editable Object is something of a internet trope these days. (See here: Donald Trump wielding a sign on the campaign trail only to have it covered in Arthur fist memes and Harambe.)
The account has been around for less than 48 hours, but has already seen massive growth, with @TrumpDraw's GIFs racking up thousands of retweets and over 12,000 followers. "I posted it on my personal account a couple of times last night and followed a bunch of Trump humor accounts (including @RealDonaldTrump himself)," @TrumpDraws explained. "Went to bed with 10 followers, woke up to 8,000. It's so crazily beyond what I thought was going to happen." The most recent tweet features Trump drawing a turkey à la the kind you maybe drew as a child during Thanksgiving season. "I just posted a hand turkey, because … well, you know," @TrumpDraws said of the newest GIF.
"I think now's the perfect time for a little humor among all this dire news in the past week," @TrumpDraws said. "All I hope now is Sean Spicer will put up these tweets in tomorrow's press conference to say that Trump is a much better draw-er or his hand turkey would actually be much much bigger."