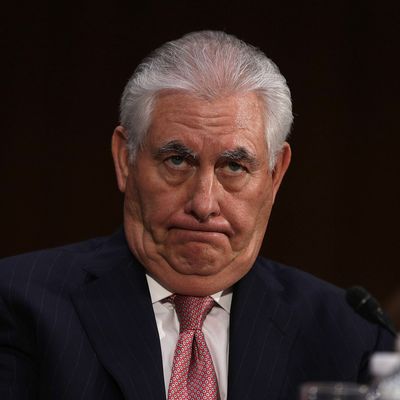 No team for the Tillerson.
Photo: Alex Wong/Getty Images
Rex Tillerson is one of the many Trump cabinet picks who has no experience in government, but plenty of experience opposing the policies of the department that he has been appointed to lead.
But there was a simple answer to any qualms these qualities might inspire: Should the secretary of State have trouble navigating the federal bureaucracy — or resisting the urge to put the interests of Exxon's shareholders above those of the American people — the department's senior civil servants would keep him from going astray.
And then, on Wednesday, the Trump administration forced out four senior-level management officials at the State Department.
Prior to CNN's report, the Washington Post's Josh Rogin had written that the officials may have resigned at their own volition. But a deliberate housecleaning is actually more consistent with Rogin's dispatch.
Tillerson was actually inside the State Department's headquarters in Foggy Bottom on Wednesday, taking meetings and getting the lay of the land. I reported Wednesday morning that the Trump team was narrowing its search for his No. 2, and that it was looking to replace the State Department's long-serving undersecretary for management, Patrick Kennedy. Kennedy, who has been in that job for nine years, was actively involved in the transition and was angling to keep that job under Tillerson, three State Department officials told me.

Then suddenly on Wednesday afternoon, Kennedy and three of his top officials resigned unexpectedly, four State Department officials confirmed. Assistant Secretary of State for Administration Joyce Anne Barr, Assistant Secretary of State for Consular Affairs Michele Bond and Ambassador Gentry O. Smith, director of the Office of Foreign Missions, followed him out the door. All are career foreign service officers who have served under both Republican and Democratic administrations.
All four of the career officers had submitted letters of resignation shortly after Trump's inauguration – a longstanding tradition that empowers the new administration to select its own staff, should it wish to. However, presidents usually do not accept those resignations until successors have been found and confirmed. Trump's hasty housecleaning leaves a void at the department: Combined with the recent retirements of other senior staff, Wednesday's departures leave the State Department with virtually no one experienced at managing its domestic bureaucracy, overseas offices, and staff, according to Rogin.
"It's the single biggest simultaneous departure of institutional memory that anyone can remember, and that's incredibly difficult to replicate," said David Wade, State Department chief of staff during John Kerry's tenure, told Rogin. "Department expertise in security, management, administrative and consular positions in particular are very difficult to replicate and particularly difficult to find in the private sector."
"The department will not collapse," a senior administration official assured CNN. "Everyone has good deputies. It's a huge institutional loss, but the department has excellent subordinates and the career people will step up. They will take up the responsibility."