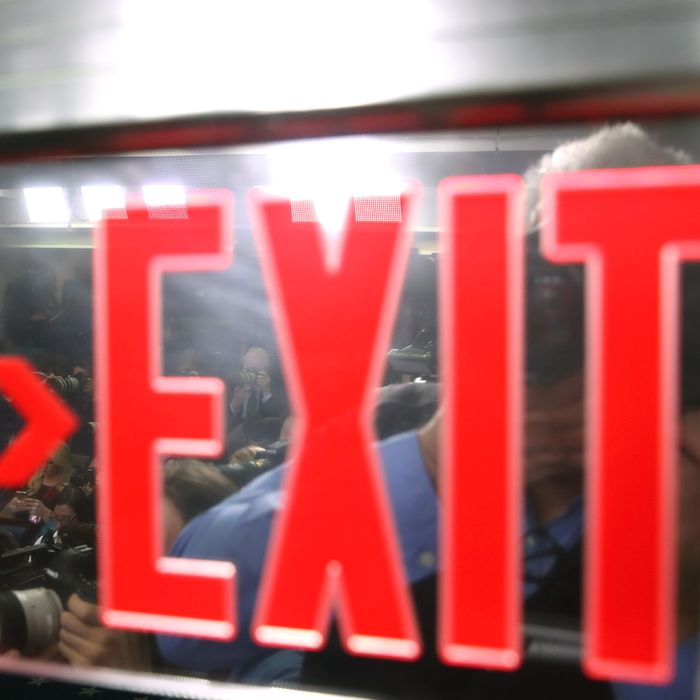 A sign of things to come at the White House's Brady Press Briefing Room?
Photo: Mark Wilson/Getty Images
Three senior Trump officials have told Esquire that the incoming administration is seriously considering a plan to evict the White House press corps from the White House press briefing room, where it's been housed since the Nixon administration. Under the plan, the press corps would apparently be moved to an adjacent facility like the White House Conference Center or the Old Executive Office Building. Trump's press secretary, Sean Spicer, told Esquire that though the plan hasn't been decided on yet, the potential move was motivated by a desire to accommodate the outsized interest in Trump, allowing more members of media to attend press conferences. Meanwhile, another (unnamed) Trump official told the magazine that the potential relocation was in fact motivated by the new administration wanting to "take back" the press room because the media is no longer neutral and has instead become "the opposition party" on account of how hostile they have been to Trump. "I want 'em out of the building," the official said.
Trump's White House chief of staff, Reince Priebus, however, echoed Spicer's rationale when asked about the possible plan on Sunday's Meet the Press, saying that the move would be about "quadrupling the amount of reporters that can cover our press conferences." He also argued that the media wouldn't actually be removed from the White House since they would still be on White House property, just not in the physical White House itself. Last month, Priebus had told conservative radio host Hugh Hewitt that Team Trump might reject long-standing traditions regarding how the administration will interact with the press. Current White House media practices are not legally required, but simply a norm that administrations have long respected (and Trump has yet to encounter a norm he has shown any interest in respecting).
The White House Correspondents' Association is, unsurprisingly, less than pleased with the potential plan:
It's not clear what would happen with the Brady Press Briefing Room at the White House if the Trump administration evicts the press, but CNN reports that Trump officials are saying that the Press Corps may be able to keep their West Wing basement workstations and broadcast journalists would still be able to shoot segments on the White House's North Lawn.
Of course, the Trump campaign and the president-elect have been infamously hostile toward the press for virtually all of Trump's campaign and transition period. Just last week, Trump disparaged and dismissed two news organizations, CNN and Buzzfeed, during a press conference because they had published articles about an unverified dossier alleging that Russian intelligence officials have successfully compromised Trump in order to blackmail him. After CNN's Jim Acosta tried to ask a question several times only to be repeatedly rebuffed by Trump — who called CNN a "fake news" organization — Spicer reportedly threatened Acosta and said he would be removed from the press conference if he didn't keep quiet.
That was Trump's first press conference in 167 days, and joining the press in the room were Trump staffers — who acted as a cheering section for Trump after some of his statements. Following that line of thinking, it's possible that the Trump administration's stated desire to house more members of the media at press conferences might in fact mean they want the ability to include more members of the Trump-friendly media, which Spicer's official statement to CNN on Sunday would seem to hint at, in that he said the administration was looking to "have additional capacity to accommodate members of media including talk radio, bloggers and others."
It's also worth remembering that excluding the media was a regular feature of the Trump campaign, as journalists and news organizations were routinely blacklisted by Trump's staff from getting credentials for campaign events and restricted to an isolated area when they were allowed in. In addition, Trump himself regularly called out and disparaged members of his press pool during campaign appearances, and even threatened lawsuits and — should he become president — executive action, over stories he deemed as false and unfair.
This post has been updated with a statement from the WHCA and some additional reporting and context.