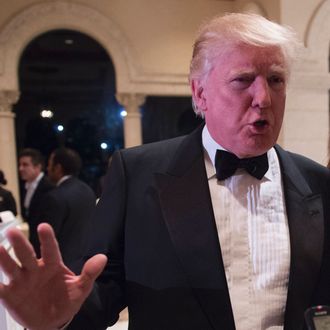 Trump talks with reporters before his New Year's Eve party at Mar-a-Lago.
Photo: DON EMMERT/AFP/Getty Images
Most presidents do not publicly pick fights with the U.S. intelligence community, but if they're going to go there, they should probably have their facts straight.

On Tuesday night Donald Trump deployed scare quotes to insinuate that intelligence officials delayed his briefing on Russia's alleged meddling in the U.S. election because they don't have enough evidence to make their case:

Trump has repeatedly expressed skepticism at the intelligence agencies' conclusion that Russian cyberattacks against Democratic officials were intended to help him win the presidency, suggesting that the culprit could be other countries or "somebody siting on their bed that weighs 400 pounds."

On New Year's Eve, Trump reiterated that he isn't confident in the agencies' findings due to the intelligence community's role in justifying the war in Iraq. "Well, I just want them to be sure, because it's a pretty serious charge, and I want them to be sure," he said. "And if you look at the weapons of mass destruction, that was a disaster, and they were wrong."
He added that he also knows "things that other people don't know" about the hacking, and when asked to elaborate, he said, "You'll find out on Tuesday or Wednesday."
It's unclear what Trump was referring to, but a senior intelligence official told NBC News that the president-elect's meeting with the heads of the NSA, CIA, and FBI, and the director of national intelligence was always scheduled for Friday.

Senior administration officials also told the New York Times that no meeting was scheduled for Tuesday. A spokesman for the director of national intelligence declined to comment on Trump's assertion.

CIA director John Brennan pushed back at Trump's questioning of the officials' conclusion during an interview that aired Tuesday on PBS NewsHour. "I would suggest to individuals who have not yet seen the report, who have not yet been briefed on it, that they wait and see what it is that the intelligence community is putting forward before they make those judgments," Brennan said.
Senator Mark Warner, the ranking Democrat on the Senate Intelligence Committee, criticized Trump for disrespecting the intelligence community:

Senate Minority Leader Chuck Schumer's had a more practical assessment: