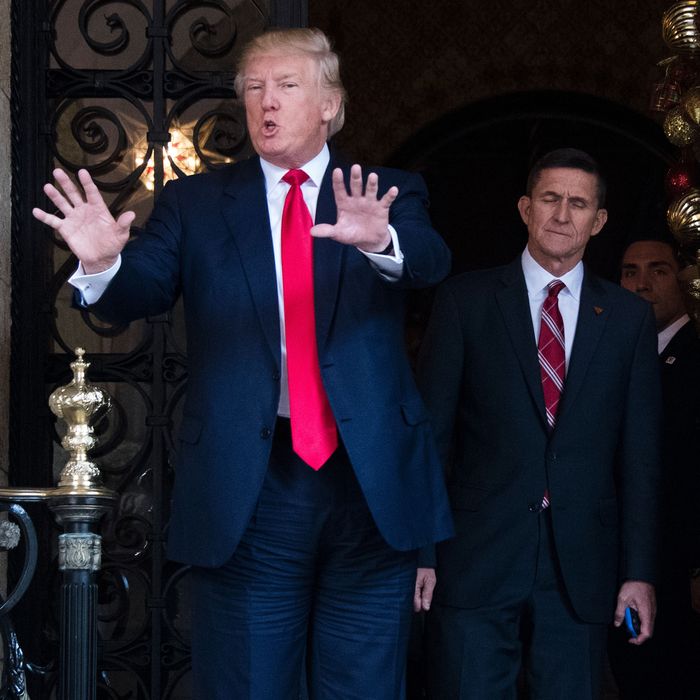 Photo: Jim Watson/AFP/Getty Images
Donald Trump says he would be open to lifting recently imposed sanctions on Russia if relations between it and the U.S. improve, telling The Wall Street Journal, "If you get along and if Russia is really helping us, why would anybody have sanctions if somebody's doing some really great things?"
Trump, who indicated "helping us" would include something like cooperation with the U.S. in the war on terrorism, also insisted that the sanctions, which President Obama imposed in retaliation for Russia's alleged interference in the U.S. presidential election, would remain in place "at least for a period of time." Trump also noted that he would be willing to meet with Russian President Vladimir Putin soon after taking office, remarking, "I understand that they would like to meet, and that's absolutely fine with me."
Indeed, The Sunday Times reported on Saturday that according to British officials, the Trump transition team and the Kremlin have already been planning a summit, to happen within weeks of Trump taking office. According to the Times' sources, the plan was to have Trump's first foreign trip as president be to Iceland to meet with Putin in order to reset U.S.-Russia relations – though that was later rejected as false by both the Kremlin and Trump aides.
Trump's sanctions comments to the Journal follow his first-ever admission, during a press conference on Wednesday, that he agreed with the assessment of the U.S. intelligence community that Russia was indeed behind the hacks of the Democratic Party and its operatives over the last few years. Up until Wednesday, the president-elect had repeatedly cast doubt on Russia's involvement in the hacks and regularly disparaged the U.S. intelligence community for saying otherwise — at least until he attended a recent briefing to hear their findings.
In other Russia-related news, Senator Richard Burr, the Republican chair of the Senate Intelligence Committee, announced late on Friday that his committee will now investigate possible contact between the Trump campaign and Russia, just a day after saying his opposed such an investigation. The investigation will look into "counterintelligence concerns related to Russia and the 2016 U.S. election, including any intelligence regarding links between Russia and individuals associated with political campaigns." The ranking Democrat on the committee, Senator Mark Warner, joined Burr in a statement announcing the probe, which could lead to subpoenas of officials in the Trump campaign and Obama administration, as well as private or open hearings.

Burr had previously said the investigation should be left to the FBI. The bipartisan announcement of the probe follows a classified briefing on Friday between members of Congress and embattled FBI director James Comey, during which Comey apparently refused to confirm whether or not the FBI was in fact investigating the possible links between Moscow and members of the Trump team, enraging Democrats. Democratic lawmakers in the House and Senate have also been calling for an independent, bipartisan commission to investigate Russian interference in the election, but those calls have been rebuffed by the GOP thus far.
On Friday, Congressman John Lewis publicly rejected Trump's legitimacy as president, with the influential Georgia Democrat insisting to NBC News that, "I think the Russians participated in helping this man get elected. And they helped destroy the candidacy of Hillary Clinton." Trump subsequently struck back on Twitter, claiming Lewis was failing his constituents and dismissing the civil-rights icon as "All talk, talk, talk - no action or results."
As it turns out, the Senate Intelligence Committee, and possibly the FBI, aren't the only organizations looking into possible links between the Trump team and Russia. BuzzFeed, which controversially published an unverified dossier alleging that the Russian intelligence community has collected compromising information about President-elect Trump in order to blackmail him, reported on Friday that Israel and at least one Western European country are looking into the allegations of ties between Trump and Moscow as well. According to a British intelligence source who spoke with the Sunday Times, the U.K. is treading carefully as well. "Until we have established whe­ther Trump and senior mem­­bers of his team can be trusted, we're going to hold back," they said. "Putting­ it bluntly, we can't risk betraying sources and methods to the Russians."
News also broke on Friday that Donald Trump's national security adviser, Michael T. Flynn, has been in regular contact with Russia's ambassador to the U.S. over the past several weeks, including multiple calls conducted on the day President Obama imposed the new sanctions on Russia. There may have been as many as five calls between Flynn and Russian ambassador Sergey Kislyak on that day, though the Trump transition team would only confirm one, and they insisted the exchange had nothing to do with the newly imposed sanctions.
Contact between an incoming White House administration and foreign diplomats is not unusual, of course, but what's curious and/or worrisome about the calls is that Putin quickly decided against retaliating over the new sanctions, a response which President-elect Trump then praised, adding that, "I always knew [Putin] was very smart!" Trump's national security advisor, Flynn, has previously faced accusations of being too close to the Kremlin, on account of having once been paid to give a speech by the RT news network, a state-run Russian news organization and propaganda outlet on which Flynn has made multiple appearances.
Meanwhile, across the Atlantic, thousands of U.S. troops arrived in Europe this week, including 4,000 deployed to Poland, a move the U.S. is promoting as an indication of its unequivocal support for NATO, as well a deterrent against Russian aggression in the region.
Some 82 percent of American adults, including 84 percent of Democrats and 82 percent of Republicans, consider Russia to pose a threat to America, according to a new Reuters/Ipsos poll.
This post has been updated to reflect new details, including John Lewis's comments and Trump's reply, and a report that a Trump-Putin summit may already be in the works along with the Trump team's subsequent rejection of that report.