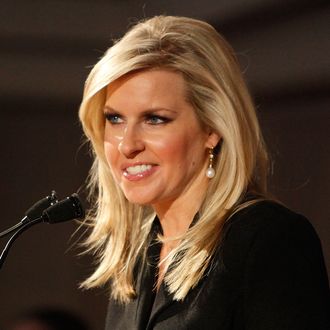 Monica Crowley.
Photo: Shahar Azran/WireImage
Over the weekend, the Trump transition team essentially shrugged in response to CNN's report that Monica Crowley, Trump's pick for senior communications director of the National Security Council, plagiarized many sections of her book What the (Bleep) Just Happened? The Happy Warrior's Guide to the Great American Comeback. "Any attempt to discredit Monica is nothing more than a politically motivated attack that seeks to distract from the real issues facing this country," the transition responded.

The problem, as the Washington Post notes, is that whether or not Crowley is a plagiarist is a "factual question, not a partisan one." And now there's more evidence to back up CNN's assertion, if the 50 examples from her book weren't convincing enough. Politico combed through Crowley's PhD dissertation, titled "Clearer Than Truth: Determining and Preserving Grand Strategy: The Evolution of American Policy Toward the People's Republic of China Under Truman and Nixon," which she submitted in 2000 while pursuing her PhD in international relations at Columbia University. They found more than a dozen sections of text that were copied from scholarly works without proper attribution.
Side-by-side comparisons show Crowley lifted sentences, with a few words switched, from John Lewis Gaddis's book Strategies of Containment: A Critical Appraisal of American National Security Policy During the Cold War and Thomas Christensen's book Useful Adversaries: Grand Strategy, Domestic Mobilization, and Sino-American Conflict, 1947–1958, as well as other books and articles on foreign policy. In some instances, she cited the author in the text, but did not use quotation marks; in others, there is no attribution.
The transition team has not responded to Politico's requests for comment. It's hard to imagine the Trump team being riled by the new findings, especially after the future First Lady had her own plagiarism scandal. But Columbia might care. As Politico notes, the university has rescinded at least one Ph.D. for plagiarism. The university has yet to comment on the matter.