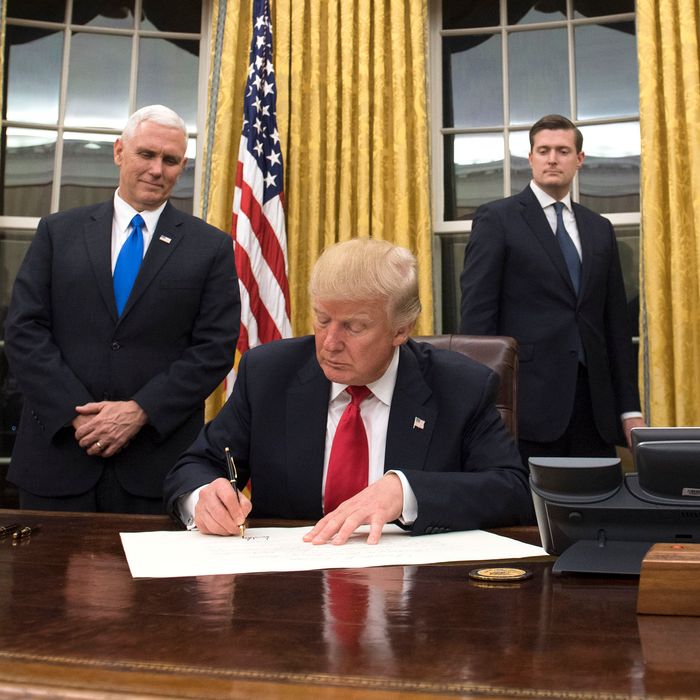 Let it sink in.
Photo: Pool/Getty Images
Shortly after his inaugural parade on Friday, President Donald Trump signed his first executive order, directing federal agencies to "ease the burden of Obamacare." The order is vague, and has no immediate effect on the health-care system. But it paves the way for the weakening of the Affordable Care Act, and signals that Trump will fulfill his campaign promise to make dismantling the health law one of his administration's top priorities.
The order says that until Congress can repeal Obamacare fully, the Trump administration will "take all actions consistent with law to minimize the unwarranted economic and regulatory burdens" of the ACA and "prepare to afford the States more flexibility and control to create a more free and open healthcare market."
It goes on to direct the heads of all executive departments and agencies "exercise all authority and discretion available to them to waive, defer, grant exemptions from, or delay the implementation" provisions in the ACA that "would impose a fiscal burden on any State or a cost, fee, tax, penalty, or regulatory burden on individuals, families, healthcare providers, health insurers, patients, recipients of healthcare services, purchasers of health insurance, or makers of medical devices, products, or medications."
The Trump administration declined to explain what that means, and as the Washington Post notes, "In general, federal rules cannot be undone with a penstroke but require a new rule-making process to replace or delete them." But the order means that federal agencies could try to ease enforcement or penalties pertaining to certain aspects of the law, such as the individual and employer mandates, or requirements that insurers include certain benefits in health plans.
Medicaid is not mentioned specifically, but providing the states "greater flexibility" could mean that rules will be loosened for states that expanded the program to cover low-income Americans.
"This order doesn't in and of itself do anything tangible," Larry Levitt, vice-president at the Kaiser Family Foundation, told Vox. "But, it directs federal agencies to start taking steps to use their administrative authority to unwind the ACA in all sorts of ways. This is a signal that the Trump administration is not waiting for Congress to start making big changes."
Trump signed the order while seated at the Resolute Desk, flanked by Vice-President Mike Pence and senior aides Steve Bannon, Jared Kushner, and Reince Priebus. Trump also signed the commissions for Defense Secretary James Mattis and Homeland Security Secretary John Kelly, who were confirmed by the Senate on Friday. Mattis and Kelly were then sworn in by Pence during a separate ceremony.
Priebus, Trump's chief of staff, also issued an executive memorandum freezing pending regulations to give the new administration an opportunity to review them. Obama enacted a similar freeze after he was sworn in in 2009. The memo could prevent new Energy Department efficiency standards from going into effect.
Trump's first executive action of the day was to block a move by the Obama administration that would have reduced the cost of mortgages for millions of home buyers. The Department of Housing and Urban Development issues a letter suspending a 0.25 percentage point premium-rate cut for Federal Housing Administration–backed loans, USA Today reports. Republicans say the cut — which would have saved homeowners $29 a month on a $200,000 mortgage — threatened the stability of the system, but Democrats questioned the Trump administration's priorities:
The Oval Office also saw some cosmetic changes on Friday.
There was a brief replay of the controversy from 2009, when President Obama moved a bust of Winston Churchill from the Oval Office to the White House residence to make room for a bust of Martin Luther King, Jr. Reporters spotted the Churchill bust back in the Oval Office on Friday, and initially thought that MLK bust had been removed. Later journalists confirmed that both the Churchill and MLK busts are in Trump's Oval Office.