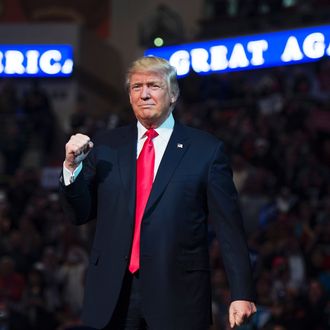 Photo: Don Emmert/AFP/Getty Images
A week and a half after tweeting that the United Nations "has such great potential but right now it is just a club for people to get together, talk and have a good time. So sad!" President-elect Donald Trump managed to get on a phone call with new Secretary-General António Guterres on Wednesday. U.N. spokesperson Farhan Haq described the conversation in appropriately diplomatic terms: "This was an introductory phone call during which they had a very positive discussion on U.S./U.N. relations," he said. "The secretary-general said that he looked forward to engaging with the president after his inauguration." Meanwhile, Trump spokesperson Sean Spicer said only that his boss (and his foreign-policy-experience-free U.N. ambassador pick, Nikki Haley) would demand "some reform and change" from the organization.
The chat followed days of Trump criticizing the U.N. over its December 23 resolution declaring Israel's West Bank settlements illegal. "As to the U.N., things will be different after Jan. 20th," he tweeted when the United States declined to veto the resolution. A day later, it was, "The big loss yesterday for Israel in the United Nations will make it much harder to negotiate peace. Too bad, but we will get it done anyway!" He then told reporters, "When do you see the United Nations solving problems? They don't. They cause problems. So, if it lives up to the potential, it's a great thing. And if it doesn't, it's a waste of time and money." Trump's recent comments about the U.N. were in line with his campaign statements, which included threats to pull the United States out of last year's Paris Agreement, which is aimed at combating climate change (he has called climate change a lie invented by China).
But, when asked earlier this week if he was worried about Trump, Guterres replied, "No. I'm concerned with all the terrible problems we face in the world." On that, he and Trump can agree: