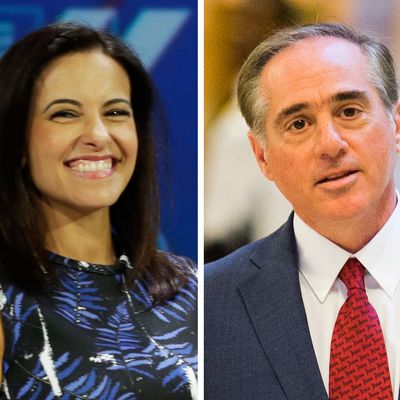 Dina Powell and David Shulkin.
Photo: Getty Images
The Trump transition bolstered its ranks with two new hires Wednesday, one from Goldman Sachs and another from the Obama administration.
Goldman Sachs partner Dina Powell is leaving her post running the bank's foundation to join the Trump White House in a senior role focusing on "entrepreneurship, economic growth and the empowerment of women," according to Politico. Powell will reportedly work closely with Trump's daughter Ivanka and her husband, newly appointed Trump senior adviser Jared Kushner. CNN says Powell, who is advising Ivanka, will serve as the First Daughter's "woman in the White House."
With Powell, Trump has now brought at least five Goldman Sachs veterans into his administration. She joins Trump's chief strategist Stephen Bannon, his Treasury Secretary nominee Steven Mnuchin, his pick to head the National Economic Council Gary Cohn, and transition official Anthony Scaramucci — all of whom worked at Goldman. Add in Trump's nominee to lead the SEC, lawyer John Clayton, who's represented Goldman, and the number is six.
Former Obama administration appointee David Shulkin will also join Trump's White House as secretary of Veterans Affairs, if confirmed. The president-elect slipped mention of Shulkin's nomination into his wild Wednesday press conference, where he said, "He's fantastic. He will do a truly great job."
Shulkin currently runs the Veterans Health Administration in his role as undersecretary for health at Veterans Affairs. That makes him the first Obama official tapped to join the Trump administration. He's also a doctor and would be the first nonveteran to lead the department.