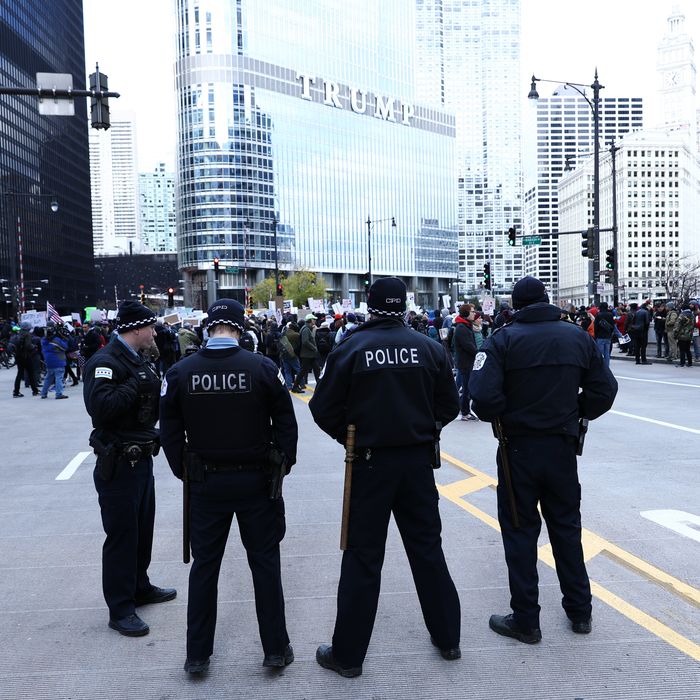 Police guard an anti-Trump protest outside Chicago's Trump Tower in November.
Photo: Anadolu Agency/Getty Images
Five days after declaring in his inaugural speech, "This American carnage stops right here and stops right now," President Trump addressed the violence in Chicago by threatening to "send in the Feds" on Twitter.
Last year Chicago saw its worst violence in 20 years, and 2017 is already off to a bad start. So far there have been 228 shootings, up from 216 during the same period last year, according to the Chicago Tribune. There have been 42 homicides in 2017, compared to 34 by this time in 2016.
Trump often painted a grim picture of inner cities on the campaign trail, and he tweeted about Chicago earlier this month.
But it appears the president's tweet on Tuesday was inspired by a segment on The O'Reilly Factor. Just before it was posted, Trump praised Fox News via Twitter for having higher inauguration ratings than "fake news" CNN. (Another potential inspiration: Chicago mayor Rahm Emanuel knocked Trump on Monday, saying, "You didn't get elected to debate the crowd size at your inaugural.")
In the Fox segment, O'Reilly and Horace Cooper of the National Center for Public Policy Research discussed how Trump could take federal action to combat violence in Chicago, and used the word "carnage." Cooper said:
He sends a Justice Department directive that says to the U.S. attorneys in that jurisdiction, in Cook County, that they are going to work directly with the prosecutors. They're going to have the FBI and the local law enforcement work together, and they're going to pick which cases that they go across that they're going to prosecute directly. This doesn't require change in law — this simply requires will.
O'Reilly suggested Trump could also send in the National Guard, adding, "The governor won't. The governor is afraid, the governor is a coward."

Trump has not elaborated on what he meant by "send in the Feds," but the Tribune notes that the idea of sending the National Guard into Chicago has been raised repeatedly in the last decade as gun violence has worsened in the city. In August, Illinois governor Bruce Rauner, a Republican, said he's discussed the idea with community leaders, police, and the National Guard, but "no thoughtful leader thinks that's a good idea or would really provide a solution."