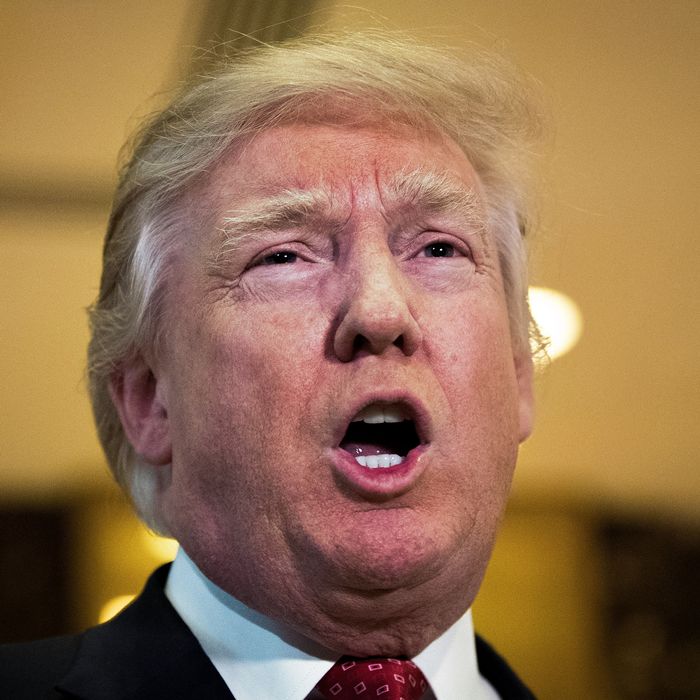 Trump's face when he tweets, probably.
Photo: Drew Angerer/Getty Images
Donald Trump has no plans to abandon his Twitter account when he takes office, the president-elect told British Parliament member Michael Gove in an interview published in the Sunday Times. Instead of transferring his tweets over to the official @POTUS handle, Trump said he'd prefer to use @realDonaldTrump because "it's working."
Trump cited his 46 million followers across Twitter, Facebook, and Instagram as a good reason to keep the handle he once used to plead with Robert Pattinson to not take back Kristen Stewart. On Twitter alone, Trump has 20 million followers, compared to the 13.5 million on the @POTUS account. Just for kicks, let's check in on @BarackObama. Oh, he has four times as many as Trump. Ouch.
In the interview, Trump also offered that he didn't think he'd be tweeting as often as he is. "I thought I'd do less of it, but I'm covered so dishonestly by the press," he said. With Twitter, "I can go bing bing bing and … they put it on and as soon as I tweet it out," he said about the media's compulsion to give his every tweet the "Breaking News" treatment.
The most interesting tidbit offered by Trump in his rambling, stream-of-consciousness riff on Twitter, though, was this baffling correction he gave his interviewer — "it's not 140, it's now 280," he said, in reference to a tweet's character count. That mistaken belief might explain why Trump has been breaking up his thoughts into two tweets of late. What it can't explain is why it takes him so long — 13 minutes between the two tweets below — to complete his thoughts.