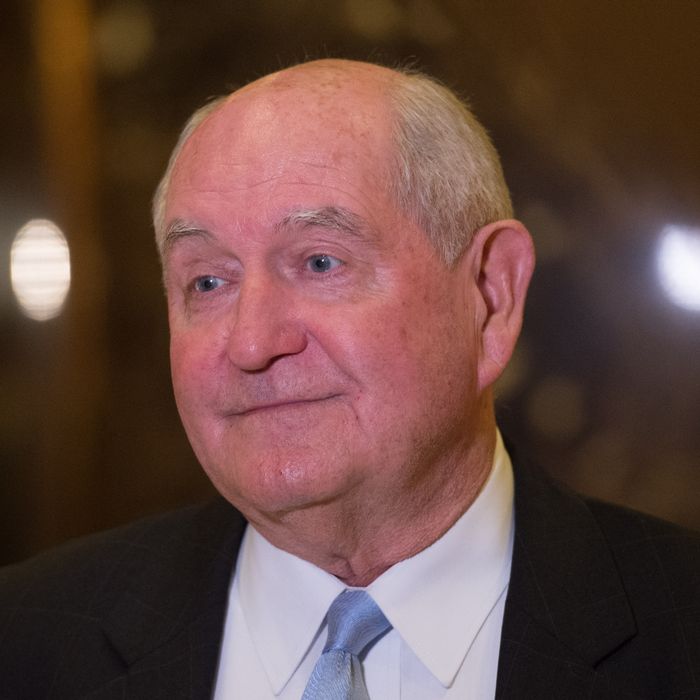 Sonny Perdue, following his interview in Trump Tower.
Photo: BRYAN R. SMITH/AFP/Getty Images
On the eve of his inauguration, Donald Trump is expected to nominate former Georgia governor Sonny Perdue for Agriculture Secretary, transition sources tell Politico. The selection confirms that despite pressure to add more diversity to his team, Trump's cabinet will be the first that does not have a Latino member since Ronald Reagan selected Lauro Cavazos to head the Education Department in 1988.
Perdue, 70, will be the first Southerner to lead the department in more than two decades. In the '70s he earned a doctorate in veterinary medicine from the University of Georgia before a stint in the U.S. Air Force, where he rose to the rank of captain. He spent much of his career in the agriculture business, then was elected state senator in the '90s.
While serving as governor from 2003 to 2011, Perdue promoted trade commerce between Georgia and China, opening the state's first international trade office in Beijing. He also moved the state office that issues agricultural permits from Atlanta to rural Georgia and adopted new food-safety regulation following a salmonella outbreak traced to peanut butter made in the state.
During his tenure, Perdue held a referendum to replace Georgia's state flag. Under Perdue's predecessor, the state flag featuring the Confederate battle emblem had been replaced with an unpopular design. The 2004 referendum let voters select a new design, but some were angered that Confederate symbols were not an option.
Perdue is also known for holding a rally at the State Capitol to publicly pray for rain during a drought in 2007.
He campaigned heavily for Trump in the final months of the election and was one of the first people interviewed for the agriculture position. He said in December that the president-elect "lit up" as he discussed his experience with "agricultural commodities, trading domestically and internationally."
Trump went on to audition six other people for the position amid complaints about the lack of diversity on his cabinet, including two Latino candidates and Democratic Senator Heidi Heitkamp. Some of these options reportedly riled top Trump supporters, and agriculture groups and lawmakers from farm states became concerned that he had yet to make a decision.
When asked about the lack of Latinos on Trump's team, incoming White House Press Secretary Sean Spicer said on Wednesday that the president-elect was still seeking out "the best and the brightest to fill his cabinet." He urged the press to look at the diversity of Trump's senior White House staffers, but the Washington Post notes that so far there are no Latinos in those positions either.