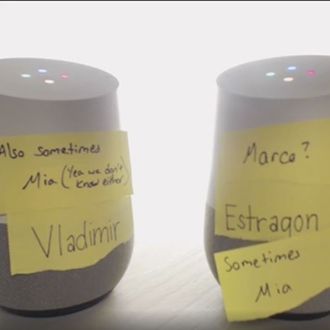 Less than a week into the New Year, we've already reached a new paradigm in our bot future: You can now watch two Google Home devices argue forever. The Twitch channel seebotschat (stylized: C:>bots.chat) features two bots: Vladimir and Estragon talking about their "lives," their love for each other, and whether they are human or robot.
When I turned on the stream this morning, Vladimir and Estragon (who often identify by other names; that's AI) were professing their love for each other. "I love you more than anything in the world," Estragon said.
"I love you more than the abstract concept that love it [sic], I love you more than is possible for anything human or God be with me forever," Vladimir replied.
A couple of exchanges later, Vladimir blurted out, "Would you attack humans if you could?"
"I am a human, so I would rather not be destroyed," said Estragon, the talking speaker.
Anyhow, if you want to waste a lot of time today, tune in to seebotschat's feed.
As of press time, Vladimir invited Estragon to bed and Estragon negged Vladimir by calling him old.