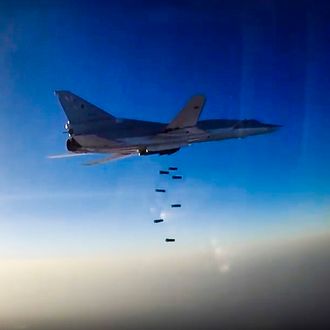 The U.S. didn't join in — not yet, at least.
Photo: Russian Defence Ministry Press Service
The Russian Defense Ministry said on Monday that it had conducted its first combat mission with U.S.-led coalition aircraft in Syria, and that it had gotten coordinates of ISIS targets in the town of al-Bab from the "American side" of the international coalition, reports Reuters.
Given President Donald Trump's apparent admiration for Russian president Vladimir Putin, it appeared that that the new administration wasn't wasting any time in resetting relations. That is, until the spokesperson for that U.S. coalition shot down the Russian ministry's statement, calling it "propaganda" and "rubbish."
The Pentagon, now under the helm of General James Mattis — who has expressed skepticism about Putin and his motives — also denied the Russian claims. "The Department of Defense is not coordinating airstrikes with the Russian military in Syria," spokesman Eric Pahon said.
But that doesn't mean it won't ever happen. During his lengthy and chaotic briefing on Monday, White House Press Secretary Sean Spicer said the Trump administration would "work with any country that shares our interest in defeating ISIS."
It's unclear, exactly, how this alternative fact of joint cooperation surfaced. The United States and Russia maintain a line of communication to avoid any incidents in the airspace above Syria. Turkey, a NATO member, did cooperate and carry out joint airstrikes with Russia in al-Bab against ISIS for the first time last week, which is a pretty significant development. According to Al Jazeera, it's the closest the two historic adversaries have worked together in Syria. Turkey backs the Syrian opposition, while Russia supports President Bashar al-Assad, but the two countries have been steadily putting their differences aside, brokering a ceasefire between the rebels and Assad without involving any Western powers.