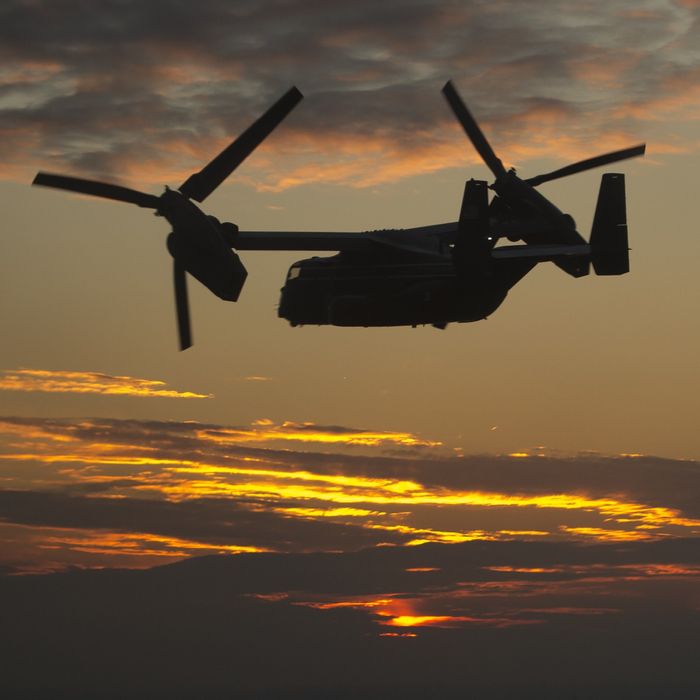 An MV-22 Osprey helicopter reportedly had to be destroyed after being damaged during the early-morning raid.
Photo: Saul Loeb/AFP/Getty Images
An elite U.S. commando was killed and three others injured during a counterterrorism raid targeting a Yemeni branch of Al Qaeda on Sunday, marking the first U.S. combat death under President Trump, who approved the operation. It was also the first U.S. ground raid in Yemen since the beginning of the country's two-year-old civil war. The killed service member has not yet been identified.
The commandos were a part of SEAL Team 6, which conducted the early morning attack in a rural part of Yemen's Bayda Province. Military officials report that the headquarters of Yemen's Al Qaeda branch was the target, and that 14 of the group's fighters were killed and valuable information was captured in the attack. Three purported Al Qaeda leaders were reportedly killed in the raid, according to U.S. officials who spoke with the Associated Press, and they were apparently in-laws of the infamous American-born Al Qaeda cleric, Anwar al-Awlaki, who was killed in a CIA drone strike in 2011. There are local reports that two fighters were captured, but a U.S. official denied to the AP that any detainees were taken during the raid.
A U.S. aircraft was reportedly damaged after a "hard landing" during the operation and had to be destroyed.
There are also unconfirmed reports that a total of 30 people were killed in the strike, including ten women and three children, allegedly by U.S. airstrikes accompanying the ground raid, according to local Yemeni officials and medical workers. Anwar al-Awlaki's 8-year-old granddaughter may have been among those killed as well, per the AP. The Pentagon denies that any civilians were killed in the operation.
The plan for the raid had apparently been developed while President Obama was still in office, but had to be delayed until Sunday. U.S. drone strikes targeted and killed three other Al Qaeda members in Yemen a week ago, according to U.S. officials.