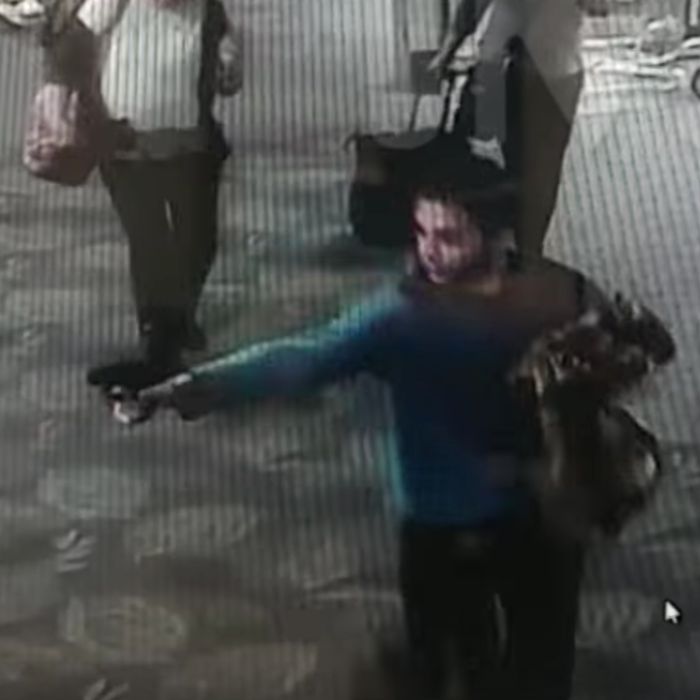 Photo: Screencap/YouTube/TMZ
The 26-year-old Iraq War veteran who opened fire at Fort Lauderdale-Hollywood International Airport on Friday, killing five people, was charged by a U.S. attorney on Saturday and will appear in court on Monday. The shooter, former National Guardsman Estaban Santiago, apparently planned the seemingly-random attack, in which he flew to the airport with his handgun case checked as luggage, then shot 11 people in one of the airport's baggage claim areas — but authorities still don't understand why he did it. Five of the six people injured in the attack remain hospitalized as of Sunday, four with gunshot wounds, and two in critical condition.
The FBI has not ruled out terrorism, but have found no evidence linking him to that motive. In addition, Santiago, who had flown to Florida from his home in Alaska, has a history of violent and erratic behavior, including domestic violence. He also has a documented history of mental illness, and had even had his handgun confiscated for a month after he walked into the Anchorage FBI office in early November and asked agents to help him, claiming the CIA was trying to control his mind and was making him watch ISIS videos.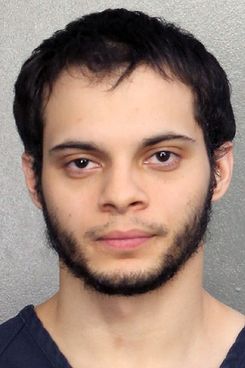 Santiago, agitated and incoherent, had left his gun — and his newborn baby — in his car before walking into the FBI office. He was subsequently detained by Anchorage police, the baby was retrieved by the boy's mother (Santiago's girlfriend), and Santiago was admitted to a mental health facility. Police also confiscated his gun and logged it into evidence "for safekeeping." Santiago was eventually released, and on December 8 he was able to reclaim his gun from the police. A month after that, he checked the same 9mm semiautomatic handgun in his luggage for a one-way trip to Fort Lauderdale, using proper protocol and drawing no extra attention to himself. After arriving in Florida, via Minneapolis, he claimed his luggage in Terminal Two, loaded the gun in a bathroom stall, and then came out and opened fire on the first people he saw, aiming for their heads. When Santiago was quickly approached by a Broward Sheriff's Office deputy, he dropped the gun and got down on the floor. The entire attack lasted less than 90 seconds.
On Sunday, TMZ published a short security video which showed the beginning of the attack (authorities are already investigating the leak of the video):
Now in custody, the gunman is cooperating with investigators. There is no indication that Santiago had any problems with anyone on his flight, which he boarded after a layover in Minneapolis. Authorities have been questioning people who knew Santiago in Alaska, where he worked as a security guard. Some 175 people have been interviewed thus far, and there have apparently been reports of Santiago exhibiting erratic behavior, including selling many of his possessions in Anchorage. Investigators have also reportedly found writings which indicate some level of planning prior to the attack. Members of the Santiago's family have told the media that he had mental health problems stemming from his 2010-2011 ten-month tour in Iraq as a teenager in the Puerto Rico National Guard, during which he saw a bomb explode next to two friends. The New York Times reports that at least two soldiers from Santiago's unit were killed in insurgent attacks during the unit's tour of duty.
Santiago's brother Bryan said that Estaban sometimes couldn't control his anger, had said he was hearing voices, and had requested psychological help from the government. "We're not talking about someone who emerged from anonymity to do something like this," he told the Associated Press. The brother also said he couldn't believe authorities had let Santiago have his handgun back after the incident in November, or didn't respond differently to that scenario on account of his mental health history. Santiago's aunt said on Friday that he had "lost his mind" while in Iraq and was hospitalized after returning, but that his mental illness appeared to be improving while he was living in Alaska, though she lost contact with him several months ago. Santiago's brother said communication between the two had stopped about a month ago, as well.
The FBI says they interviewed his family members and ran other checks following the Anchorage incident in November. At the time, he apparently had said that he did not want to harm anyone.
The gunman's victims in Florida have not been officially identified by authorities, but the families of four of the five people killed have acknowledged those victims' names. All four were arriving in Fort Lauderdale to depart on cruise vacations. 84-year-old Georgia native Olga Woltering, a great grandmother, was traveling to Fort Lauderdale with her husband for a cruise with their children to celebrate his 90th birthday (he was unharmed in the attack). 70-year-old Shirley Timmons was also traveling with her husband, both from Ohio. She was killed and her husband remains in a coma after being shot in the face. Iowa native Michael Oehme, 57, and his wife were in town for their annual cruise. He was killed and she was shot in the shoulder. 62-year-old Terry Andres, a volunteer firefighter in Virginia Beach, was also traveling with his wife on their way to embark on a 16-day cruise. She was unharmed. The identity of the fifth person who was killed remains unknown as of Sunday evening.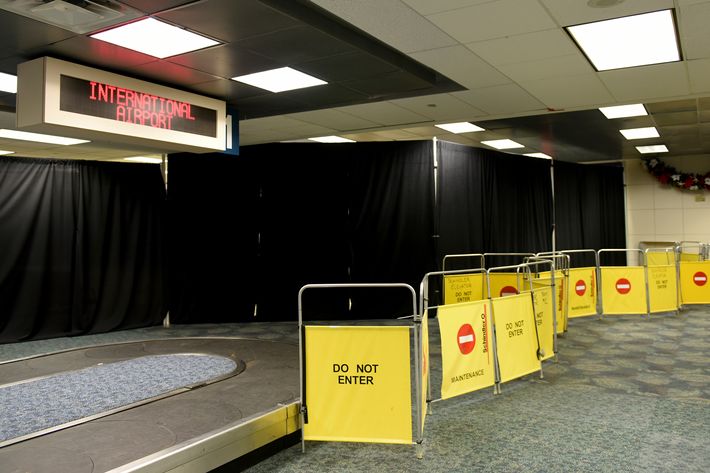 Santiago has been charged with federal crimes including committing violence and serious harm against someone at an international airport, as well as two firearms offenses, and he could now face the death penalty. He could also face state-level murder charges in Florida, but it's not yet clear if state authorities are interesting in pursuing that course of action. So far, no evidence has been found linking Santiago to international terrorism. He was born in New Jersey, but grew up in Puerto Rico from the age of two. He went on to serve in the National Guard in Puerto Rico, and during that time he was deployed to Iraq. He also served in the Guard and Army Reserves in Alaska, but was discharged from the Guard in August for "unsatisfactory performance."

Santiago's son was born in September, and he was apparently living with the boy and his mother, Santiago's girlfriend, and as many as two other children for a time at a house in Anchorage. However, police had been called to the home at least four times in 2016 for either physical disturbances or domestic violence, and Santiago had been arrested twice.
Terminals One, Three, and Four at Fort Lauderdale-Hollywood International Airport were reopened on Saturday, and some of Terminal Two was reopened as well. Roughly 12,000 travelers were stranded on Friday when the airport was put on lockdown and 300 flights were cancelled. Many of the stranded have since been trying to recover the estimated 25,000 personal items they left behind. Those items comprise luggage, cellphones, and other personal belongings, including clothes, IDs, passports, and money, which travelers obviously need to recover before leaving Fort Lauderdale, but most bags won't be available until Monday, according to airport officials. (The airport has hired a contractor to collect all the discarded items and sort them by where they were found so they can be more easily retrieved by their owners.) State authorities even brought in special computer-equipped buses to print temporary IDs for travelers on Saturday afternoon, and Florida governor Rick Scott asked cruise ship companies to accept passengers with provisional IDs on account of the crisis.
Regarding the rules around firearms and airline travel, the Transportation Security Administration says that airline passengers can bring firearms onto flights so long as they are unloaded, locked in hard-sided case, and placed in checked baggage. Firearm ammunition can also be transported in checked baggage. Airport terminals in Florida are now "gun-free zones" by law, but state lawmakers are currently considering legislation which would eliminate some of those zones. It's not clear how Friday's shooting might impact that debate.