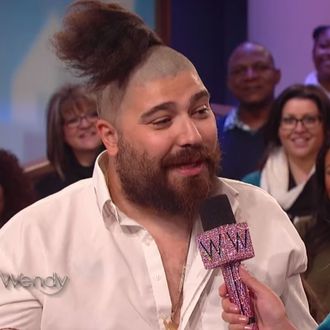 The Fat Jewish, a.k.a. Josh Ostrovsky, a dude who first made a name for himself by teaching a SoulCycle class on CitiBikes with homeless people in New York City, made a surprise (okay) appearance on Wendy Williams's show today. In light of recent news that Ostrovsky and his wife Katie Sturino (who has built her own social-media empire over at @the12ishstyle and owns several internet-famous dogs) are divorcing and that he is about to be a father with another woman, Ostrovksy told Williams he was going to let her pick the name of his soon-to-be-born daughter.
Ostrovsky proposed four name choices to Williams, who wanted to know the baby's last name before making her choice. (It's King.) The options were the "gender neutral" Janeathan, Almond Milk, Beyoncé, or Wendy. " You can also pick a fifth option. Whatever you say right now is the name of my first daughter," Ostrovsky added. "No pressure. It's just a human life, no pressure."
Clearly because she liked the name and thought it would be the best suited for Ostrovsky's kid and not at all because it was the only viable option — Almond Milk is terrible, Wendy would have been selfish, and there is only one true Beyoncé — Williams picked Janeathan.