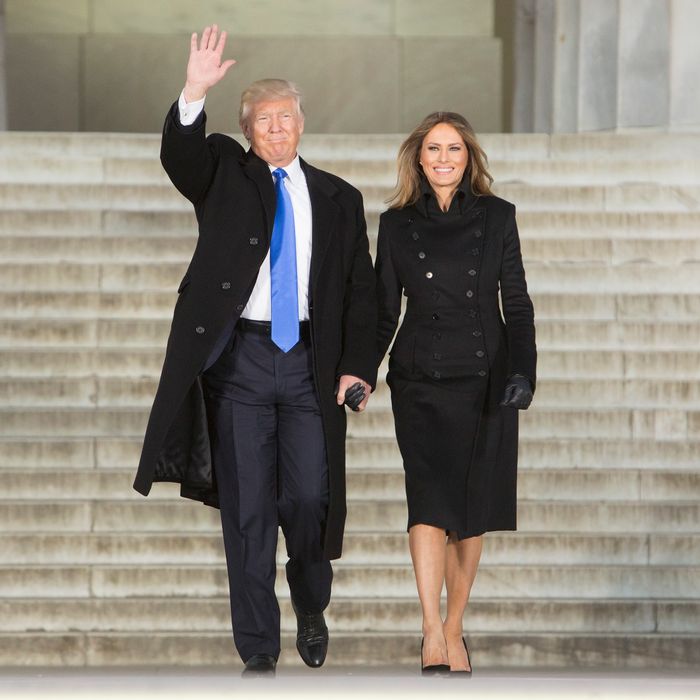 The Trumps attend the "Make America Great Again Welcome Celebration" concert at the Lincoln Memorial on Thursday evening.
Photo: Pool/Getty Images
When Donald Trump becomes president at noon on Friday, he'll bring the unpredictability that marked his campaign into the White House. On numerous occasions, Trump has laid out exactly what he plans to do on his first day as president. The problem is it would be impossible for him to fulfill all of these campaign promises immediately after taking office, even if he were to skip the pomp of inauguration day and immediately head to the Oval Office.
Trump, like many presidential candidates, was fond of promising to take various actions on "Day One," but during the campaign he used the phrase far too liberally. By September, Hillary Clinton had promised to undertake three tasks on her first day in office, while Trump had pledged to take on 21, according to Mother Jones. This included designating China as a currency manipulator, abolishing gun-free zones, announcing the renegotiation of NAFTA, announcing the U.S. withdrawal from the Trans-Pacific Partnership, fixing the Department of Veterans Affairs, directing his generals to come up with a new plan to defeat ISIS, beginning work on his southern border wall, and repealing all of Obama's "unconstitutional" executive orders.
In October, Trump unveiled a more organized plan for his first 100 days during a speech in Gettysburg, Pennsylvania. Trump's "Contract with the American Voter" lists 18 actions he will take on day one, including starting work on selecting a new Supreme Court justice, beginning the removal of "more than 2 million criminal illegal immigrants," and suspending immigration from "terror-prone regions where vetting cannot safely occur."
After the election, Trump shared a much shorter list of "executive actions we can take on Day One" in a YouTube video. Suddenly, ordering the development of a plan to "protect America's vital infrastructure from cyberattacks, and all other form of attacks" was a day-one priority.
Now that Trump can finally start acting on those promises, he and his team have offered conflicting definitions of what "Day One" really means. Earlier this month, Vice President-elect Mike Pence said Trump's executive actions would "literally begin on Day One." But the president-elect said this week that he considers Monday the first day of his presidency. Incoming White House press secretary Sean Spicer tried to find a happy medium. "He is committed to not just Day One, but Day Two, Day Three, of enacting an agenda of real change," Spicer said on Thursday. "And I think that you're going to see that in the days and weeks to come."
Spicer said that Trump would only sign four or five executive actions on Friday, mainly having to do with administrative tasks like formally nominating cabinet secretaries and establishing a presidential records policy. But at a luncheon in his Washington, D.C. hotel on Thursday, Trump proclaimed, "We will be signing some papers that will be very meaningful tomorrow right after the speech to get the show going."
The Trump team has been tight-lipped about what actions he'll take in the first days of his presidency, but they've dropped a few hints. Spicer said repealing Obamacare, immigration, and battling ISIS are "key issues" likely to come up sooner rather than later. He also said he thinks renegotiating NAFTA and pulling out of TPP will happen "very shortly."
Trump advisors told the Washington Post that his focus during his first days in office will be reversing policies implemented by Obama rather than enacting his own vision. They said that includes rolling back regulations, including those that restrict energy production, and undoing parts of Obamacare.
The strategy for repealing Obamacare is expected to be hashed out more fully when Trump and Pence attend the GOP retreat in Philadelphia late next week. One health-related policy is likely to be reversed before that. The "Mexico City" policy, which prevents groups receiving U.S. foreign aid from performing or promoting abortion services, has been reinstated or repealed by each new president since it was implemented by Ronald Reagan.
On immigration, Reuters reports that Trump is expected to sign executive actions to begin the construction of a southern border wall and limit Latin American asylum-seekers from entering the country. As for the undocumented immigrants already here, Trump is expected to direct the government to deport the 2 million with criminal records. But there probably won't be any immediate effort to round up those brought to the country illegally as children. Sources close to the transition said Trump would rescind Obama's Deferred Action for Childhood Arrivals program, letting the two-year authorizations that allowed more than 700,000 people to stay in the country expire.
Trump said in his Times of London interview this week that he will ban immigration from nations that have "lots of terrorism problems" during his first days in office, and promised that there will be "extreme vetting." He suggested that could include parts of Europe. "We don't want people coming in from Syria who we don't know who they are," he said. "You know there's no way of vetting these people. I don't want to do what Germany did."
Changes that now appear less likely in the early days of the Trump administration are labeling China a currency manipulator (an issue Trump cabinet nominees said they'd have to study), and dismantling the Iran nuclear deal. According to Foreign Policy, the Trump team is looking at ways to undermine the deal without scrapping it entirely.
While Spicer indicated that Trump's schedule for enacting various policy measures is still in flux, it's safe to assume that like his predecessors, he'll try to unilaterally enact several bold measures in the coming days to show he won't be slowed by the usual Washington gridlock.
"I'd say to America, 'Buckle your seat belt.' This is going to be a very quick start out of the gate," Representative Chris Collins, a member of Trump's transition, told McClatchy. "It's going to be fast-paced. Mr. Trump is not someone to dillydally."