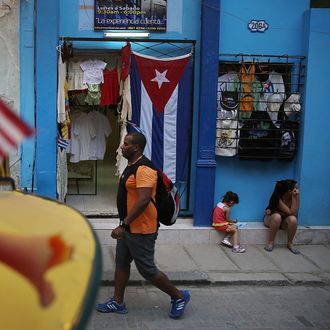 Havana.
Photo: Joe Raedle/Getty Images
President Barack Obama made a big foreign-relations splash in the waning days of his administration. The White House is reportedly ending the "wet foot, dry foot" policy, a 20-year-old immigration stance that granted Cuban nationals legal U.S. residency once they arrived on American soil. The change is effective immediately, reports the Associated Press.
The preferential "wet foot, dry foot" policy to Cubans began under the Clinton Administration in 1996, which revised a more expansive policy from the '60s that gave residency to those Cubans intercepted at sea as well as those that reached American shores. Even the more restrictive U.S. policy had been a sticking point with the Cuban government. Its repeal signifies another milestone in the warming relations between the United States and Cuba, which began in 2015 under President Obama.
Of course, this policy change could last less than two weeks if soon-to-be president Donald Trump — who has criticized Obama's opening with Cuba and threatened to dial back those efforts — wants to reinstate the "wet foot, dry foot" rule.
According to U.S. officials, those who already came to the country under "wet foot, dry foot" will be grandfathered in, and the option to apply for political asylum remains. There's been an uptick of Cuban arrivals since the U.S. began its normalization with the Castro government, reports the Washington Post, as people rushed to get to the United States over fears the policy might change.