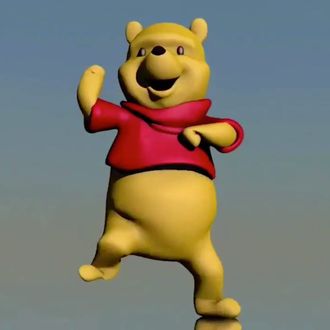 Just look at him. LOOK AT HIM.
Photo: WinnieDancing/Twitter
The world is currently in, well, shambles, but for those of us watching it burn on Twitter dot com there is at least one good thing happening online this week: an animated video clip of Winnie the Pooh doing the dance from "Gangnam Style" layered over everything from Trump-Pence protest chants to "Bad and Boujee" by Migos. It's excellent. Some truly A+ content.
As for the animation's source, the Winnie dancing clip appears to have originated on YouTube from user Fesbuk Videos. It was posted back in January of 2015 but has had something of a renaissance in the past week on Twitter and Instagram.
While you might not expect it of the ursine 100 Acre Woods inhabitant, Pooh dancing works with just about any song or situation, as evidenced by a popular new Twitter account which has racked up over 20,000 followers in a short period of time pairing the bear dancing with songs by request.
Follow @WinnieDancing here for the latest from the bear. Or make your own edits and then please promptly email them to Select All. We'll be waiting.