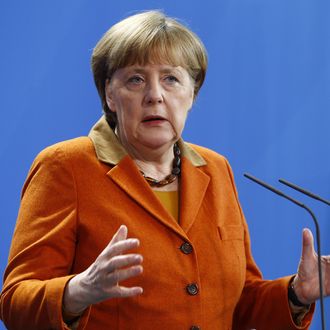 Angela Merkel said the ban is "not justified."
Photo: Michele Tantussi/Getty Images
As U.S. airports swelled this weekend with protests condemning President Trump's executive order barring immigrants from seven Muslim-majority nations, leaders from around the world joined the chorus of criticism. Among those taking issue with the ban, which also halts all refugee admissions to the U.S. for 120 days and bars Syrian refugees indefinitely, were American allies and leaders of the nations targeted.
On Monday, the Iraqi parliament voted in "reciprocate" and institute a travel ban on Americans, while the country's foreign ministry took a more diplomatic line, requesting that Trump "reconsider this wrong decision." Iran too promised "reciprocal measures" in a statement that called the ban an "obvious insult to the Islamic world."
Meanwhile, in Yemen an official said the ban "supports the terrorists and sows divisions among people," while Sudan called for the immediate removal of its name from the list of banned countries.
In the U.K., Prime Minister Theresa May, who was at the White House Friday before Trump signed the executive order, issued a tepid comment, saying she does "not agree with this kind of approach." The current and former mayors of London were harsher in their criticism. Sadiq Khan called the ban "shameful and cruel," while Boris Johnson, now the British foreign secretary, tweeted this:
Across Europe, leaders struck the same tone. Sweden's minister of foreign affairs said she's "deeply concerned" about the ban. The French foreign minister said, "Terrorism knows no nationality. Discrimination is no response." Italy's deputy foreign minister said the ban will make the world "less secure." Angela Merkel, who, Trump says, he'd like to emulate, said through a spokesman that she "regrets" the ban, which is "not justified."
Closer to home, Canadian Prime Minister Justin Trudeau to issued an invitation:
Despite these strongly worded statements from across the globe, not everyone outside the U.S. opposes Trump's executive order. As Breitbart reports, "rising populist leaders" are giddy about the whole thing. Among others, Breitbart cites praise from Dutch politician Geert Wilders, who was convicted of inciting racial violence in December.