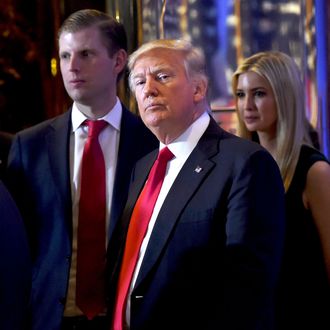 Photo: Timothy A. Clary/AFP/Getty Images
The man who prepared the secret dossier alleging deep ties between Donald Trump and Russia is a former British intelligence agent with a spy-movie name, according to The Wall Street Journal. Christopher Steele is a 52-year-old who runs Orbis Business Intelligence Ltd., a private security and investigation firm based in London. The WSJ says he's the man who, according to CNN, was first hired by GOP operatives to dig up dirt on Trump and then paid by Clinton supporters to continue his investigation.
The WSJ appears to have known Steele was behind the document for weeks. Its article revealing his name says attempts to get him to talk have failed in "previous weeks" because, as an intermediary told the paper, the topic was "too hot."
Some information on how Orbis gathers its information is available on its website, which says:
"Our global network of senior associates is made up of regional, industry and academic experts, as well as prominent business figures. We call upon their expertise and closed network of contacts to help our clients frame business decisions, protect our clients' reputations, and problem–solve for companies facing complex issues worldwide."
Despite failed attempts to reach Steele, the WSJ did speak to Christopher Burrows, who runs Orbis with Steele. He would not "confirm or deny" that the firm produced the report.