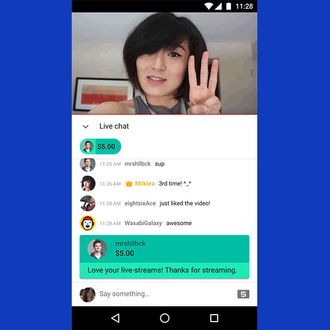 In its latest effort to help creators monetize their channels, YouTube has revealed Super Chat, a system that allows users to pay in order to promote their comments during livestreams. Paid comments can stay pinned at the top of the scrolling feed, giving them added attention.
From YouTube's announcement:
a highlighted message in the chat stream that stands out from the crowd to get even more of your favorite creator's attention. And Super Chats remain pinned to the top of chat for up to 5 hours, giving more airtime for your messages.
The most obvious parallel here is Twitch's Cheering system, which let users do pretty much the same thing: throw a few bucks a streamer's way by posting in the comments section. Tipping emerged on Twitch as a third-party income source, with many users taking singular contributions via services like PayPal. Realizing that they were missing out on revenue, Twitch developed their own first-party tipping service as well. Obviously, they get a cut.
Direct financial-support systems like tipping, and subscription options like Patreon, which lets users make a monthly pledge, have become more popular for digital content creators in recent years. It allows them to receive income directly from their audience, rather than rely on advertising that appears alongside whatever they post.