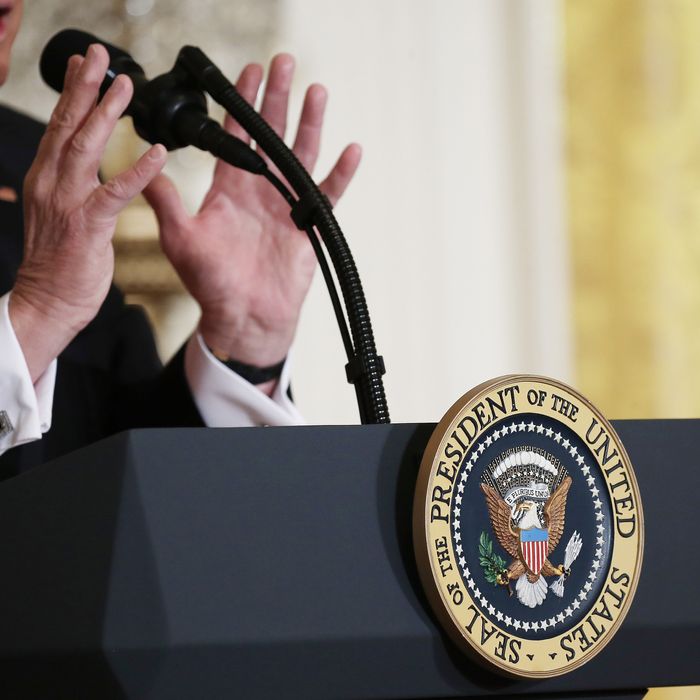 Photo: Mario Tama/Getty Images
On Thursday, President Trump announced his new pick for Labor Secretary at an early afternoon press conference.
He then spent 76 minutes ranting about the media's dishonesty; touting his historically successful first month in office (and ever-increasing popularity); bragging about his singular lack of hatred for Jewish people; and, occasionally, answering a reporter's question.
Here are the ten most interesting things we've learned from President Trump's first solo press conference:
1. Trump did not instruct Michael Flynn to discuss sanctions with the Russian ambassador while Obama was still president — but he would have, if he'd thought of it.
This week, the president parted ways with his first national security adviser, Michael Flynn. The retired general had become enveloped in controversy due to his (arguably illegal) contacts with Russian officials.
The most widely discussed of these contacts was a phone conversation Flynn had had with Russia's ambassador to the United States on December 29 — the day that the Obama administration had expelled Russian diplomats from America, as punishment for the Kremlin's (alleged) meddling in the 2016 election.
The day after Flynn's phone call, Vladimir Putin announced that his government would not be taking retaliatory measures against American diplomats, despite previous reports to the contrary.
Flynn later claimed that he had not spoken about sanctions with the Russian ambassador. Which makes sense: doing so would have almost certainly been a violation of federal law.
Multiple members of the Trump administration, including Vice-President Mike Pence, backed up Flynn's claim. Then, America's intelligence agencies discovered that Flynn had lied. Weeks later, so did readers of the Washington Post. Days later, Flynn was gone — but not because the president saw anything wrong with Flynn's phone call.

"Mike was doing his job. He was calling countries, and his counterparts," Trump said, when asked if he had directed Flynn to discuss sanctions with the Russian ambassador. "I didn't direct him, but I would have directed him, because that's his job."
Violations of the Logan Act are fine. Misleading Mike Pence is not. So goes the official White House spin on Flynn's departure.
2. Trump isn't certain that no one on his campaign was in contact with Russian intelligence operatives.
3. The leaks about the Trump administration are real. But the news stories written about those leaks are fake.
Trump has argued that intelligence agencies really are leaking sensitive information about his administration. But he has also maintained that reports based on those leaks are "fake news." Asked to resolve this contradiction, Trump replied:
Well, the leaks are real. You're the one that wrote about them and reported them, I mean, the leaks are real. You know what they said, you saw it and the leaks are absolutely real. The news is fake because so much of the news is fake.
4. The president believes that committing an act of war against Russia would be a surefire way of increasing his political approval ratings.
5. Trump is unable to discern when he is ranting and raving.
Tomorrow, they will say, "Donald Trump rants and raves at the press." I'm not ranting and raving. I'm just telling you. You know, you're dishonest people. But — but I'm not ranting and raving. I love this. I'm having a good time doing it.
6. You can trust President Trump — because when he says false things, he's merely reciting the information that he has been given.
The president claimed that his Electoral College victory was the largest since Ronald Reagan's. It is among the smallest.
NBC's Peter Alexander pointed this out to Trump. He then asked why Americans should trust Trump, when the president says demonstrably false things.
"I was given that information," Trump replied. "I've seen that information around."
7. One of Trump's major takeaways from his intelligence briefings is that "nuclear holocaust would be like no other."
"And I can tell you one thing about a briefing that we're allowed to say," the president said, "nuclear holocaust would be like no other."
8. President Trump is the "least anti-Semitic person you've ever seen in your entire life." Also, he thinks that a lot of alleged acts of anti-Jewish intimidation are really just false-flag operations cooked up by his enemies.
This declaration came after a Jewish reporter asked President Trump about recent threats made against 48 Jewish community centers across America. (The reporter specifically said that he did not intend to suggest that Trump was personally anti-Semitic).
After assuring the reporter that he has less animus toward Jews than anyone else (including, ostensibly, all Jews), the president argued that no one has been committing anti-Semitic acts in his name — and that reports to the contrary are, in fact, false flags.
"Some of the signs you'll see are not put up by the people that love or like Donald Trump, they're put up by the other side and you think it's like playing it straight?" the president said. "They'll do signs and they'll do drawings that are inappropriate. It won't be my people. It will be the people on the other side to anger people like you."
9. President Trump is the "least racist person." Also, he assumes that black reporters are probably "friends" with black members of Congress.
Minutes after declaring himself the least racist person in existence, Trump took a question from American Urban Radio Networks' D.C. bureau chief, April Ryan.
Ryan asked if Trump planned to seek the advice of "the CBC" when crafting his urban agenda. The president was confused. Ryan explained that she was referring to the Congressional Black Caucus.
"Do you want to set up the meeting? Are they friends of yours?" Trump asked the African-American journalist.
"No, I'm just a reporter," Ryan said.
"Set up a meeting," the president interrupted. "I would love to meet with the Congressional Black Caucus."
10. Trump misses Crooked Hillary.
According to the New York Times' transcript, the president said the word "Hillary" 12 times during his press conference. The 2016 campaign has been over for 99 days.