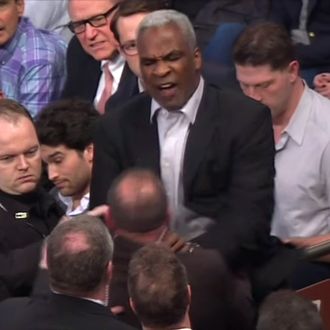 The last time Charles Oakley was at MSG.
Photo: ESPN
Charles Oakley's lifetime ban from Madison Square Garden lasted four days. On Tuesday, ESPN reported that the longtime Knick will be allowed to return to the team's home arena after reports Saturday said he would never be allowed back in, even if he bought a ticket.
The lifting of the ban comes after NBA commissioner Adam Silver and Michael Jordan intervened in the dispute between Oakley and his longtime nemesis, Knicks owner James Dolan. It was Dolan who was reportedly behind Oakley's ejection from a Knicks game last week, which ended in the former power forward's arrest and a torrent of criticism for the owner, who implied after the incident that Oakley is an alcoholic.
"He may have a problem with alcohol. We don't know. But those behaviors of being physically and verbally abusive, those are personality problems," he said on the Michael Kay Show Friday.
Sunday, in an attempt to show that not all of his former employees hate him, Dolan surrounded himself with Knicks alums at a home game against the Spurs. Among them was Latrell Sprewell, who publicly feuded with Dolan himself.
Then, on Monday, Silver met with Oakley and Dolan at NBA headquarters, and Jordan, a longtime friend of Oakley's, joined them over the phone. Both Dolan and Oakley apologized for the incident last Wednesday, but Oakley said Tuesday he still wants a more public mea culpa from Dolan before he actually returns to the Garden.
"It's not about being at the Garden," Oakley told Jeff Goodman of ESPN. "It's about the fans. I want them to apologize to the fans. I told the commissioner I want them to apologize to the fans."