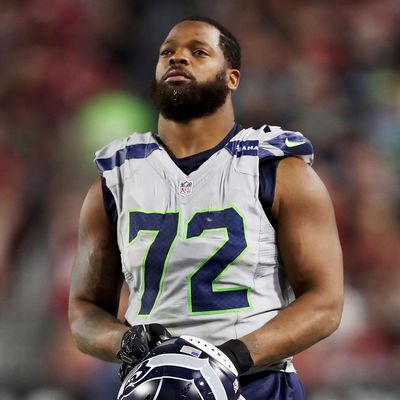 Michael Bennett of the Seattle Seahawks said he didn't want to be "used" by Israel for public-relations purposes.
Photo: Christian Petersen/Getty Images
The Israeli government had hoped that an upcoming tour of Israel it was providing to ten current, and one former, NFL players would give the country a nice public-relations boost at a time when it could certainly use one. Hopefully, wrote Strategic Affairs Minister Gilad Erdan and Tourism Minister Yariv Levin in a press release published the night of the Super Bowl, "hosting influencers and opinion-formers of international standing in different fields, including sport" would provide "a balanced picture of Israel, the opposite from the false incitement campaign that is being waged against Israel around the world."
It isn't turning out that way. As the Times of Israel reports, four members of the delegation have pulled out, arguing that they feel that if they participated on the trip, they would be getting used by an Israeli government that has frequently been criticized for its occupation of the West Bank and its treatment of Palestinians there and in Israel proper.
The players may have been influenced by an open letter by Dave Zirin published in The Nation February 9 urging members of the delegation to pull out of it. The letter argued that the Israeli government was " aiming to use your fame to advance their own agenda: an agenda that comes at the expense of the Palestinian people." It was signed by a group of artists and human-rights activists, including Harry Belafonte, Angela Davis, and Danny Glover.
Not long after the letter was published, Michael Bennett of the Seattle Seahawks announced he wouldn't be going, and soon he was joined by three other players: his younger brother Martellus of the New England Patriots (who has already said he won't be visiting the Donald Trump White House), Kenny Stills of the Miami Dolphins, and Justin Forsett of the Denver Broncos.
In his thoughtful Twitter announcement, Michael Bennett referenced the Israeli government's own statements about the trip's PR importance.
"I will not be used in such a manner," Bennett wrote. "When I go to Israel — and I do plan to go — it will be to see not only Israel but also the West Bank and Gaza so I can see how the Palestinians, who have called this land home for thousands of years, live their lives." Stills and Forsett then quote-retweeted Bennett, announcing they too wouldn't be going, and Bennett's brother gave that indication as well.
While the players' decision was couched in general protest of Israel's human-rights policies rather than in response to any specific act, it's worth pointing out that this is all occurring shortly after Israel passed a highly controversial law that "that would retroactively legalize Jewish settlements on privately owned Palestinian land," as the New York Times puts it, "pressing ahead with a statement of right-wing assertiveness despite the likelihood that the country's high court will nullify the legislation." The brazenness of that law might make for some tough optics for the remaining members of the delegation.
On the other hand, despite the sustained international outcry over some Israeli policies, particularly settlement policy, Americans overwhelmingly say their sympathies lie more with the Israelis than with Palestinians. So from the NFL players' perspectives, this is a bit of a damned if you do, damned if you don't situation.