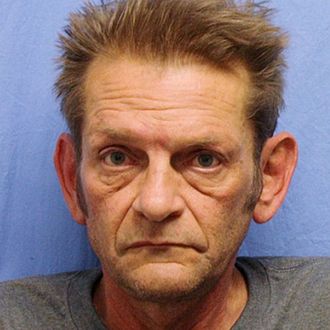 51-year-old Adam Purinton.
Photo: Henry County Sheriff's Office
Hours after 51-year-old Adam Purinton allegedly fired on two Indian men in a Kansas bar, he went to an Applebee's in Clinton, Missouri, and told the bartender he had shot "two Iranian people," according to a 911 phone call. Early reports suggested that Purinton had said he shot "two Middle Eastern" men.
On the 911 recording, the bartender tells the dispatcher about the confession, and that the man had asked for a place to hide out. She also warns that police should not come with sirens blaring or Purinton might "freak out" and "something bad's going to happen."
Authorities have not charged Purinton with a hate crime or named a motive in the attack that left one Indian man, 32-year-old Srinivas Kuchibhotla, dead, and wounded 32-year-old Alok Madasani. According to witnesses, Purinton shouted slurs and yelled "get out of my country" before firing on the pair, both U.S.-educated engineers who worked at the nearby Garmin factory. Another man, 24-year-old Ian Grillot, was also shot and injured when he tried to intervene.
Purinton appeared in court Monday in Kansas on first-degree murder and attempted-murder charges. A neighbor told the Associated Press that Purinton, a Navy vet who'd reportedly been bouncing between jobs, was a "drunken mess" after his father passed away a year and a half ago, and that he never heard him talk about politics.
Madasani, who was shot in the leg, told the New York Times that Purinton had been sitting at a table close to him and Kuchibhotla when he asked what visas the men were on, and whether they were in the United States legally. "We didn't react," Madasani said. "People do stupid things all the time. This guy took it to the next level." Purinton was escorted out by the bartender after that encounter, though he apparently returned and opened fire on the men.
At a vigil on Sunday in honor of Kuchibhotla, Madasani told a crowd that the shooting was "an isolated incident that doesn't reflect the true spirit of Kansas, the Midwest and the United States."