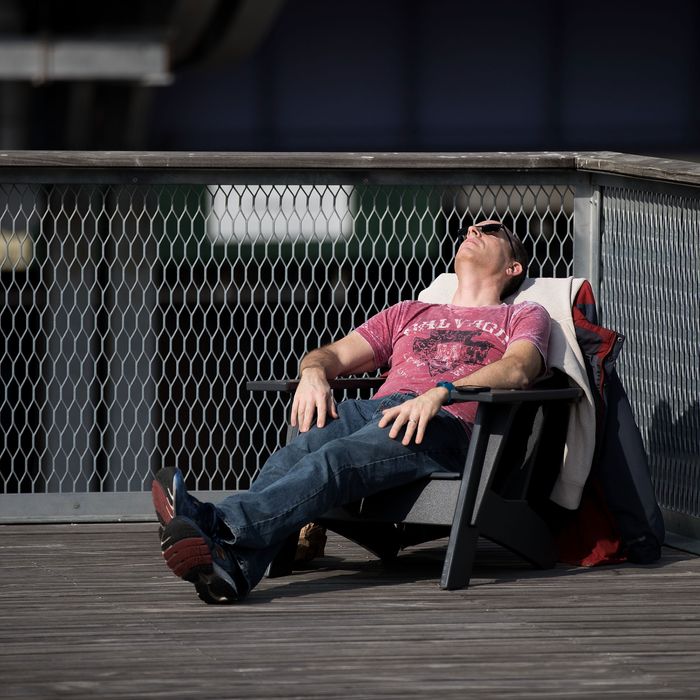 Winter in New York City.
Photo: Drew Angerer/Getty Images
Unseasonably high temperatures continued to make February feel more like May on Friday, with new record highs seen across the Midwest and into the Northeast. All told there are more than 50 possible record highs today, CNN reports.
Some cities are already there. Boston hit 72 today, its highest February temperature since record keeping began. Albany got up to 73, the highest winter temperature of all time in the capital. Further south, Youngstown hit 74, Cincinnati reached 77, and Louisville got up to 81, all of which set February records.
Locally, JFK Airport set a record by pushing past 60 today and Newark got up to 74, also a record. Central Park reached a very nice 69 today, which was still six degrees below the 75 recorded there in 1985.
Undoubtedly, there are many more cities across across New England, the Ohio Valley, and the Atlantic Coast shattering heat records today, as temperatures reached as much as 40 degrees above normal.
Today's warm weather follows a trend that has seen February deliver above-average temperatures to nearly every part of the country, with only Maine and Washington registering below-average numbers. Since the start of the month, there have been more than 4,400 record highs set across the country. And record lows? A whole 29.
If you're the worrying type who sees trees blossoming before March and begins feeling the creeping dread of melting polar ice caps, this weekend will provide some much needed relief. A cold front will sweep across the eastern part of the country this weekend before the springlike temperatures return next week, just in time for the start of March, or as we will soon refer to it, summer.