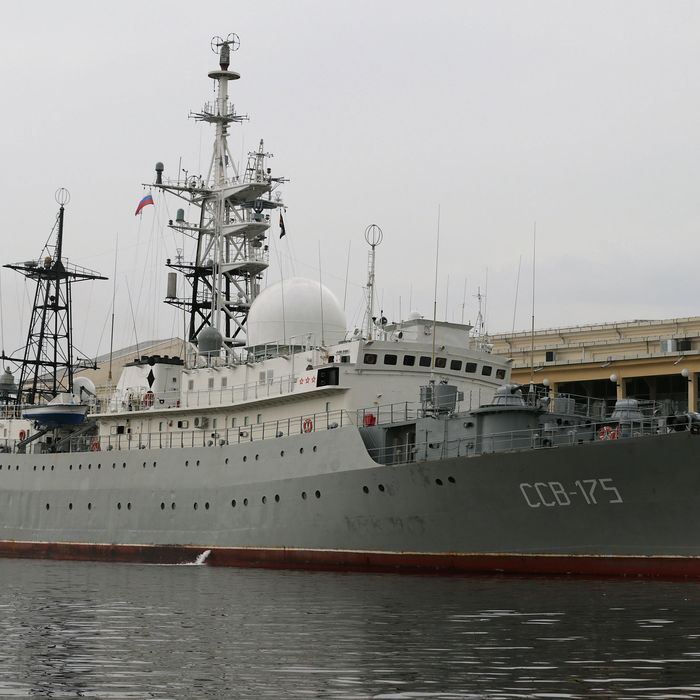 The Viktor Leonov CCB-175, a Russian Navy intelligence warship, is docked to a pier in Old Havana January 20, 2015 in Havana, Cuba.
Photo: Chip Somodevilla/Getty Images
No one ever said the Connecticut shore was lovely this time of year, but a Russian spy ship has decided to come for a visit, anyway. The Victor Leonov is floating off the coast about 30 miles from the U.S. Naval Submarine Base near New London, after making a journey up the Atlantic coast from Havana, Cuba. The ship was hanging out near Delaware earlier Wednesday, and it has stayed well within international waters the entire time.
This is not particularly unusual — Russian ships, like U.S. ships, skulk around the coastlines of countries in international waters all the time. "I wouldn't make a mountain out of a mole hill," Candler said. "It's a ship, but it's not the Great White fleet. And it is not uncommon for all kinds of ships from all kinds of places to be all over the world," a retired naval commander told the Hartford Courant. "A military ship up here all by itself is kind of unusual. But these kinds of ships — and we do the same thing — go all over the place to stay reasonably accustomed to the waters."
Russia made similar patrol exercises under President Obama in 2014 and 2015, but this is the farthest north a spy ship has ever patrolled, a Pentagon official told CNN. And, as they say, timing is everything.