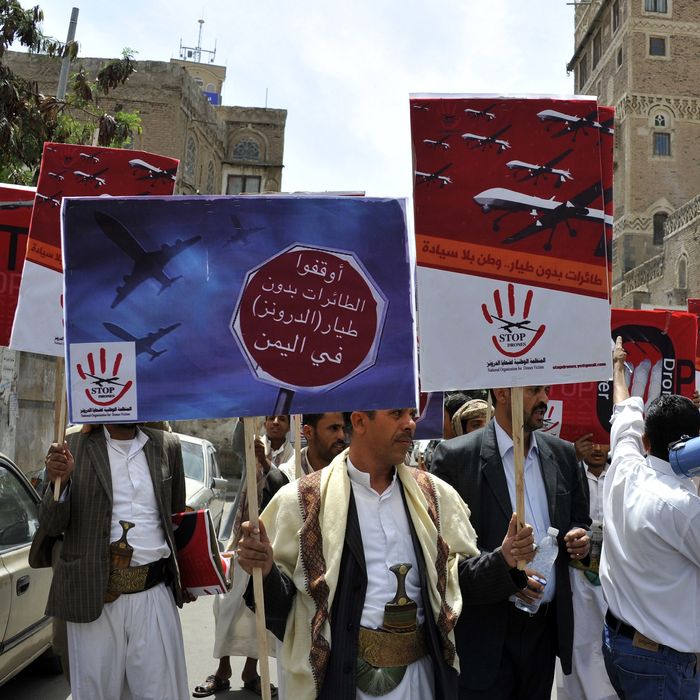 Yemeni protesters condemn U.S. drone attacks in Sanaa on April 24, 2014.
Photo: MOHAMMED HUWAIS/AFP/Getty Images
The fallout from a U.S. raid in Yemen that killed one Navy SEAL and a number of civilians continued on Tuesday. The New York Times reported that Yemen has withdrawn permission for the U.S. to conduct ground missions against terrorist targets in the country.
Yemen will still allow U.S. drone attacks, and the decision does not affect American military advisers providing support in Yemen. Drone strikes were previously halted for a time in 2014 after several operations that killed civilians.
Yemenis were incensed by photos of children killed in the 50-minute firefight. Nawar Al-Awlaki, the 8-year-old daughter of American Al Qaeda leader Anwar Al-Awlaki, was reportedly among those killed in the attack. It's unclear if the Trump administration's decision to temporarily ban immigrants from Yemen factored into the decision.
Nearly everything went wrong during the operation. Al Qaeda fighters seemed to know U.S. forces were coming, and a MV-22 Osprey had to be destroyed after a hard landing. Last weekend, Qassim al-Rimi, the head of Al Qaeda in the Arabian Peninsula, released a recording taunting President Trump, and NBC News reported that he was the mission's real target. Trump has taken flak for authorizing the mission over dinner, and anonymous U.S. military sources accused him of giving the go-ahead without sufficient support in place.
On Tuesday, White House Press Secretary Sean Spicer denied that the purpose of the mission was to target a specific Al Qaeda leader. "The raid that was conducted in Yemen was an intelligence-gathering raid," Spicer said. "It was highly successful. It achieved the purpose it was going to get, save the loss of life that we suffered and the injuries that occurred."
However, Senator John McCain, chair of the Armed Services Committee, had a more pessimistic characterization of the raid. Following a classified briefing on Tuesday, he initially called the operation a "failure." Later he dialed back his assessment.
"Every military operation has objectives. And while many of the objectives of the recent raid in Yemen were met, I would not describe any operation that results in the loss of American life as a success," McCain said in a statement. "Going forward, I am confident that our military will act on lessons learned from this operation to strengthen our fight against our terrorist enemies."