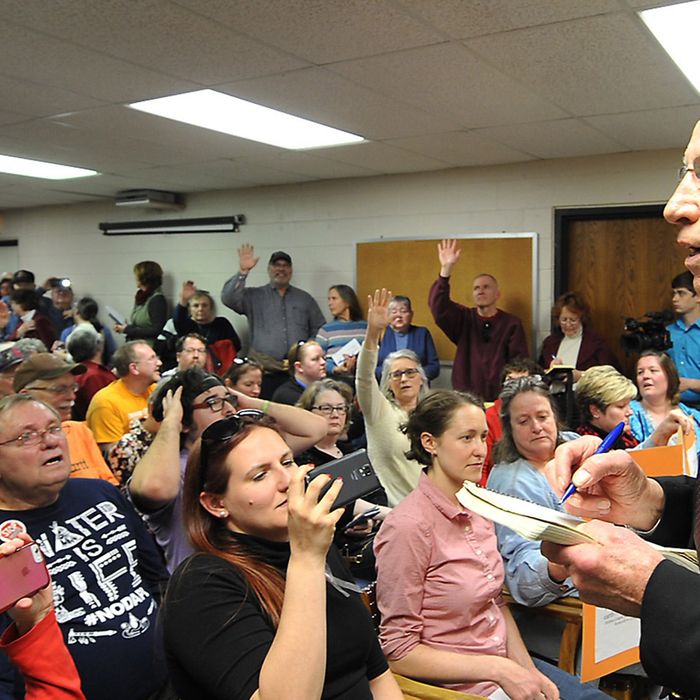 U.S. Sen. Chuck Grassley (R-IA) speaks during a town hall meeting at the Hancock County Courthouse February 21, 2017 in Garner, Iowa.
Photo: Steve Pope/Getty Images
As Republican lawmakers headed home for their first recess of the year, they faced a difficult choice: hide from their constituents or risk being called out by a little girl and having the video go viral?
Scores of Republicans across the country have chosen the former option, holding telephone forums or simply canceling events to avoid meeting face-to-face with angry constituents. With new grassroots groups like Indivisible urging those who oppose President Trump to adopt the tactics of the tea party, events that were once sparsely attended have drawn standing-room-only crowds. People have even taken to holding "empty chair" town halls in districts where they can't get a meeting with their representative.
On Tuesday, President Trump offered some encouragement to Republicans in Congress, suggesting angry crowds are only legitimate if they're disorganized:
Here are all the Republican members of Congress who chose to forge ahead with their public appearances on Tuesday, rather than avoiding or denigrating their newly energized constituents.
Senator Mitch McConnell of Kentucky
Technically, the Senate majority leader did not hold a town hall on Tuesday, but he got a taste of the resistance facing Republicans both inside and outside his luncheon with local business leaders in Lawrenceburg, Kentucky, as McClatchy reports.
Nearly 1,000 people gathered outside the Lawrenceburg American Legion, shouting, "No ban, no wall, Mitch McConnell take our call," referring to his full voice-mail box at his offices.
During his speech, McConnell said Americans are free to peacefully express their beliefs, "and we're proud of that. So I'm proud of those folks out there." However, he made a jab at the demonstrators, saying they didn't like the results of the election, "But in this country when you win the election you get to make policy. I always remind people, winners make policy and losers go home."
Several people who bought tickets to the event challenged McConnell, but he brushed off their questions. One woman pressed him about the thousands of coal jobs that have disappeared from eastern Kentucky. "If you'll answer that, I'll sit down and shut up like Elizabeth Warren," she said. "I hope you feel better now," McConnell replied.
Representative Steve Womack of Arkansas
About 200 people showed up to a "coffee with the congressman" event held by Representative Womack, which usually draws only about 40 people. According to the Northwest Arkansas Democrat Gazette, the questions mostly focused on what Womack would do to hold President Trump accountable.
Representative Dennis Ross of Florida
About 200 people turned out for Congressman Ross's town hall event on Tuesday. The Orlando Sentinel reports that the crowd chanted, "Lock him up!" following a question about President Trump discussing national security during a dinner at Mar-a-Lago. Ross responded, "When you have somebody who's not a typical politician, you're going to have mistakes."
When asked if he supports President Trump's comments about Muslims and Latinos, Ross said, "I don't condone those comments. I don't condone discrimination of any kind. I am not here to defend what the president is saying or what he is tweeting."
Ross, who sits on the House Oversight Committee, expressed surprise when a constituent asked if he would look into the millions of dollars Trump has spent on his frequent trips to Mar-a-Lago as president. Ross said, "You're the first one to bring this to my attention," then ended the event early as the incredulous crowd chanted, "Oversight, oversight."
Representative Daniel Webster of Florida
A sizable crowd showed up to see Congressman Webster on Tuesday afternoon, though his office said the event was an open house for a new district office, not a town hall. Webster briefly addressed the room, saying, "Just know, we're here to serve. We will be available," but he struggled to be heard over shouts from pro- and anti-Trump hecklers. He then exited without taking questions, drawing boos from the crowd.
Representative Buddy Carter of Georgia
More than 300 people packed into Representative Carter's town hall in Savannah on Tuesday, with dozens more chanting "Let us in!" outside.
Carter answered a wide range of questions, but the Los Angeles Times reports that his answer on Obamacare provoked the most ire. After a small business owner said the Affordable Care Act saved him financially after major abdominal surgery, Carter said, "Look, for every story like this there are 20 stories that are just the opposite." When Carter failed to explain the Republicans' replacement plan, the crowd chanted, "Answer!"
One constituent asked Carter about President Trump's refusal to release his tax returns. "I am not here to tell you Donald Trump is perfect," Carter said. "I am not going to tell you I agree with everything he has done. Those of you who have studied the Bible know that God has used imperfect people to do great things."
Senator Chuck Grassley of Iowa
Senator Grassley, who backed out of bipartisan talks over health-care reform after facing a crowd of angry tea partiers eight years ago, was confronted by Iowans in favor of the law at packed events in Iowa on Tuesday.
He tried to reassure the crowd by saying three of the four Republican replacement plans circulating in D.C. would keep the most popular elements of Obamacare. "I believe at this point, with any one of those three, [those] 20 million people won't lose because we made clear that those on the exchange, the [coverage] will continue," he said.
Senator Joni Ernst of Iowa
Senator Ernst held a "veterans roundtable" at a venue that holds about 100 people in the tiny town of Maquoketa, Iowa. As CNN reports, when she showed up on Tuesday night the room was packed, with dozens more filling the adjacent hallways. Ernst ignored the protesters and mainly called on veterans. She ended the event after only 45 minutes.
Representative Marsha Blackburn of Tennessee
Representative Blackburn was frequently booed by the 130 people at her town hall in Fairview, Tennessee, on Tuesday. Blackburn, who served on Trump's transition team, repeatedly defended the president, according to The Tennessean. When one man asked about Stephen Bannon, "a notorious white nationalist," having a place on the National Security Council, Blackburn said, "My interactions with him have all been fine."
Demonstrators complained that the venue wasn't big enough, and about 200 people held an alternative town hall outside. They stepped up to a microphone to share questions they would have asked Blackburn if they had been admitted to the town hall. Blackburn thanked them for coming and promised to watch the video of the alternative event, but she didn't take questions.
Representative Dave Brat of Virginia
Representative Brat, who previously complained, "The women are in my grill no matter where I go," took questions from supporters and detractors at a crowded restaurant conference room in Blackstone, Virginia, on Tuesday. As Politico notes, he had people write their questions on index cards so he didn't have to field questions directly from constituents. "I'm having fun," Brat said afterward, though he received plenty of jeers from the crowd. "I like having debates."

Representative Scott Taylor of Virginia
There were more than 900 people at Representative Taylor's town hall in Yorktown, Virginia, his second public forum this week. When asked about President Trump's derogatory comments about national intelligence agencies and his campaign's alleged ties to Russia, Taylor said, "There are problems on both sides. I have said I don't agree with the president … I think it's wrong. I have friends in the intelligence community."
Though Taylor faced plenty of opposition from the crowd, he said the evening was calmer than his previous event, and "the discourse was enjoyable." "There are people who agree with me [and] people who didn't agree with me, but I think they all have the right to be respected and have a seat at the table," Taylor said. "And, that's why we're here."